No reviews, be the first!
Address:

Cairo, Egypt

Hours:

Daily 8am-4pm (closed for prayers)
Al-Azhar Mosque
Among the countless minarets punctuating the Cairo skyline, four of the most impressive belong to one of the city's standout mosques, Al-Azhar. This mosque, situated in the Islamic district, is not only one of Cairo's largest sanctuaries but it is also home to the world's oldest university, where class was first held in 975 A.D.
Fatima al-Zahra, the revered daughter of Muslim prophet Mohammed, was the inspiration for the mosque's name, as her moniker of "the Resplendent One" was perfectly suited for this holy place. Originally a prayer hall with only five aisles and a small courtyard, the Al-Azhar Mosque has grown throughout the centuries under the Fatimids, Mamluks and Ottomans into one of the most impressive Islamic structures in Egypt and all of the Middle East.
Practical Info
The Al-Azhar Mosque is open to the public daily from 8 a.m. until 4 p.m., although it does close for prayers. The mosque is located in the Al-Azhar area, also known as El Hussein Square, in Cairo's Islamic district near the famous Khan el-Khalili souk. A taxi can be taken directly to the mosque, as can the metro to the Al Attaba stop. Men, women and children must dress modestly inside the mosque and on the grounds; women must cover their heads, and everyone must take off their shoes before entering.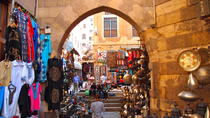 1 Review
Cairo Walking tour across its Islamic quarter to visit the amazing Al Muizz street which have the greatest concentration of Islamic medieval architecture along ... Read more
Location: Giza, Egypt
Duration: 6 hours (approx.)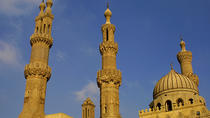 1 Review
Travel back in time to the glory days of Islamic Cairo, and see some of the medieval and Ottoman city's greatest religious monuments, on this 2-hour private ... Read more
Location: Cairo, Egypt
Duration: Flexible