47 Reviews
Address:

Pyramids Road, Giza, Cairo, Egypt

Hours:

Winter: 8am-­4pm / Summer: 8am-6pm

Admission:

E£60
Giza Plateau Tours
One of the Seven Wonders of the World, the Great Pyramids of Giza are located just outside the fringes of Cairo on the the Giza Plateau. This complex of ancient monuments includes not only the mysterious pyramids but a workers' village, plus the distinctive symbol of ancient Egypt, the Great Sphinx, which is situated at the base of the Giza Plateau.
The Great Pyramid of Khufu is the grandest in the complex, with the two smaller structures, Khafre and Menkaure, nearby. To the east of these there are three small graves – the tombs of Khufu's wives and sisters.
There are two entrances to the complex, one via Pyramids Road at the foot of the Great Pyramid of Khufu, and another below the Sphinx via the village of Nazlet as­Samaan. (Most visitors enter the site from Pyramids Road, as this is where buses from the city stop.)
Practical Info
The Giza Plateau is easily accessible from central Cairo, with taxis available at a reasonable rate and CTA (Cairo Transport Authority) buses running regularly to the pyramids from the city.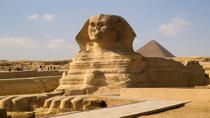 196 Reviews
No visit to Cairo is complete without seeing the majesty of the Great Pyramids of Giza and the Sphinx. With your own private Egyptologist guide to lead the ... Read more
Location: Cairo, Egypt
Duration: 3 hours (approx.)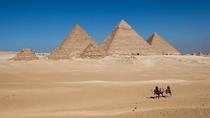 2 Reviews
Embark on an unique opportunity to explore the most remarkable attractions in Cairo. You will visit the Pyramids of Giza and the Sphinx. Later head to the ... Read more
Location: Cairo, Egypt
Duration: 1 day (approx.)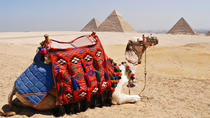 2 Reviews
Enjoy your day tour to the famous pyramids in Egypt. Most people thought Egypt has only three pyramids - however Egypt is the land of pyramids.
Location: Cairo, Egypt
Duration: 8 hours (approx.)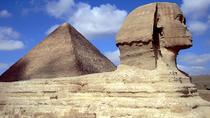 6 Reviews
The great pyramid of Cheops, the pyramids of his son, Chephren, of his grandson, Mycerinus and the Great Sphinx
Location: Cairo, Egypt
Duration: 4 hours (approx.)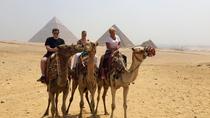 1 Review
Spending day tour in Giza is unique way to learn more about Egyptian history. Giza is a famous city located in the second part of the Nile River in Cairo. The ... Read more
Location: Cairo, Egypt
Duration: 4 hours (approx.)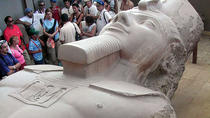 A private day tour to visit the Giza plateau, the Step Pyramid Complex of Djoser at Saqqara and Memphis the hieroglyphic name is (Men-nefer) built by King ... Read more
Location: Cairo, Egypt
Duration: 8 hours (approx.)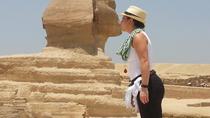 Take an 8-hour private trip to visit Giza complex, the three pyramids of the father, the son and the grandson, the Sphinx, the Valley Temple and Causeway of ... Read more
Location: Cairo, Egypt
Duration: 8 hours (approx.)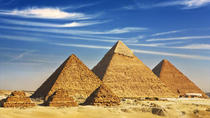 Full day Luxor private tour to Cairo from Luxor by plane visiting Giza Pyramids, Sphinx, Valley Temple, Egyptian Museum and Khan Khalili Bazaar. The tour ... Read more
Location: Luxor, Egypt
Duration: 8 hours (approx.)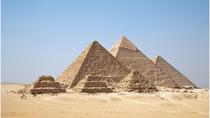 Private day tour to Cairo from Luxor with a first class train ticket included. Visit the Giza Pyramids, Egyptian Museum, Old Cairo and Khan Khalili Bazaar. ... Read more
Location: Luxor, Egypt
Duration: 10 hours (approx.)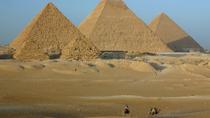 The most popular trip from Sharm. Not to be missed, a long day but a very special and memorable day! See the magnificent pyramids and Sphinx atop the Giza ... Read more
Location: Sharm El-Sheikh, Egypt
Duration: 17 hours (approx.)