Nightlife in Cairo
By Viator, August 2013
No reviews, be the first!
If you thought Cairo was lively during the day, wait until you experience the city at night. Despite being predominantly Islamic, there a plenty of places in Cairo to grab a drink, with a number of bars and clubs to choose from beyond those found in hotels for foreigners.
Alcohol isn't a huge part of social life for locals, but if you head to Zamalek when the sun goes down, you're sure to find plenty of people who like to party.
Bars and Discos
There are two main types of bars in Cairo: 'caféterias', or traditional Egyptian-style bars, and typical Western bars. The 'caféterias' are pretty much male-only affairs. Although safe, women visiting alone may feel uncomfortable in these testosterone-heavy establishments. The Western-style bars cater to both male and female customers, and are the places to go if the caféterias make you uncomfortable. Most of the upscale hotels also have nightclubs attached to them, and are popular with foreigners. Besides that, you'll find that a number of venues are mixes between bars, restaurants and clubs, which serve dinner until around 10pm, at which time the lights dim and the music begins pumping.
One unfortunate thing about Cairo nightlife is that that discos and bars close at midnight or before. Only those with a special tourism license can remain open later.
If you're in for a spell of gambling, many of Egypt's five-star hotels have casinos within them. The games are open for non-Egyptians only (bring your passport along) and conducted in US dollars and other major foreign currencies.
Dinner Cruises
A great way to spend an evening, especially for couples, is to take a Nile dinner cruise. Not only is it a great way to enjoy the beauty of the river, but many cruises also provide live entertainment such as belly dancing, whirling dervishes and Egyptian or western musical acts.
Belly Dancing
You'd be doing yourself a disservice if you leave Cairo without seeing a belly dance performance. Many consider Cairo the capital of belly dancing, and a few hotels around the city put on shows for their patrons. The performances usually consist of one or two dancers who perform a number of different dances.
Most of the 5-star hotels have belly dancing performances, such as those at the Auberge du Nil in the Royal Nile Towers Hotel, and the Haroun Al Rashid Club in Semeraimis Hotel. Another popular place is the Petit Palmyra, which puts on one of the best nightly belly dancing shows in Cairo.
For live music and other cultural events, check out the English-language edition of
Al-Ahram Weekly
and the
Egyptian Gazette
.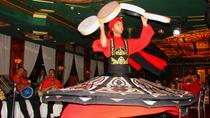 155 Reviews
Enjoy a Nile River dinner cruise aboard the Nile Maxim , one of the most elegant cruising restaurants sailing the world's longest waterway. You'll enjoy ... Read more
Location: Cairo, Egypt
Duration: 3 hours (approx.)