Possessed of little more than a million residents, Calgary is nonetheless Canada's third-largest municipality. Perhaps more importantly, the city is the country's largest between the metropolises of Toronto in the east and Vancouver in the west, making it a natural base for exploring the splendors of the Rocky Mountains. The site of the 1988 Winter Olympics, Calgary is one of the few major cities in North America geared toward winter sports and ecotourism. There are many major mountain resorts in the immediate area, but the real secret to unlocking the wonders of the mountains is taking advantage of any number of guided day trips through the region.    

Described as the "jewel" of the region, Lake Louise and the Victoria Glacier are an excellent place to start your exploration of the Canadian Rockies. Make the trek from the open prairie up into the foothills that lead into the rugged isolation of one of the world's great mountain ranges in pursuit of the glaciers and mountain lakes in and around Banff National Park.  

You will cross the Continental Divide as you venture into Yoho National Park via the scenic Kicking Horse Pass in pursuit of exhilarating class 4+ rapids on the Kicking Horse River. The journey from civilization to the heart of the wild is reason enough to descend into the Valley of the Ten Peaks, past Emerald and Moraine Lakes and the Spiral Tunnels before taking the plunge into the Kicking Horse.  

No exploration of the Canadian Rockies is complete without a day spent enjoying the mighty alpine waterfalls to be found in the region. Takakkaw Falls is an excellent example of the sort of marvels available to prospective visitors. The highest waterfall on the Canadian mainland, this marvel takes its name from the Cree language, roughly translated as "it is magnificent", and it certainly is.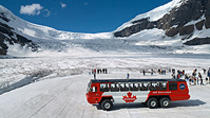 35 Reviews
On this day trip from Calgary, see the exciting Icefields Parkway on your way to the Columbia Icefield, and explore the Athabasca Glacier with the Ice ... Read more
Location: Calgary, Canada
Duration: 14 hours (approx.)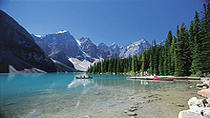 41 Reviews
Discover Canada's beautiful mountain lakes and waterfalls during this day trip from Calgary. Explore Banff National Park and visit Lake Louise, the 'Jewel of ... Read more
Location: Calgary, Canada
Duration: 14 hours (approx.)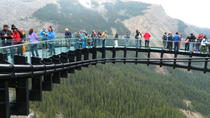 15 Reviews
Travel from Calgary to Jasper on this one-way Canadian Rockies day trip by coach, ideal for photographers, outdoor enthusiasts and casual sightseers alike. ... Read more
Location: Calgary, concludes Jasper, Canada
Duration: 11 hours (approx.)