373 Reviews
Address:

800 Benvenuto Avenue, Brentwood Bay BC V8M 1J8, Canada

Hours:

Daily 9am–3:30pm (open as late as 10pm depending on season)

Admission:

Varies seasonally
Butchart Gardens
Travelers to the Butchart Gardens are treated to an enchanting floral show that changes with the seasons. Covering 55 acres (22 hectares) on Vancouver Island, the landscaped gardens are so intricately laid out that each of the themed "sub-gardens" is like a jewel in a crown. Gardeners and nature lovers alike will be inspired by Butchart, which was established in 1904.

As visitors make their way through the different garden "rooms"—from a dramatic sunken garden to rose-covered paths—throughout the year, they'll be able to admire bulbs in springtime; head out on the dahlia walk during summer; admire gorgeous fall colors; take in the Japanese-inspired garden in the winter months. The gardens are a popular spot to visit from Victoria, Vancouver and even Seattle, either on a sightseeing tour or combined with a whale-watching cruise or seaplane flight and three-course dinner in the park.
Insider's Tip: During peak season (July–August), the gardens can get quite crowded between 11am and 3pm. Arrive right at 9am when they open, and you'll be rewarded with beautiful lighting for your photographs.
Practical Info
The Butchart Gardens are 14 miles (23 km) north of Victoria on Vancouver Island, about a 30-minute drive. Buses run to the gardens from downtown Victoria and the Swartz Bay ferry terminal. There are several restaurants at the park.
Did You Know? On summer evenings, the gardens are filled with thousands of lights, with fireworks displays taking place every Saturday night in July and August.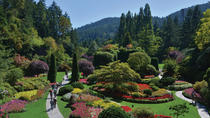 3 Reviews
Take in the beautiful fall colors as you paddle your way through stunning Brentwood Bay and into Tod Gowlland Marine Park located behind the Butchart Gardens ... Read more
Location: Victoria, Canada
Duration: Flexible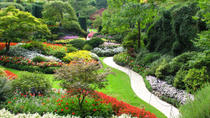 52 Reviews
This full-day narrated sightseeing tour takes you from downtown Vancouver to Victoria. Visit the world-famous Butchart Gardens and discover downtown Victoria. ... Read more
Location: Vancouver, Canada
Duration: 13 hours (approx.)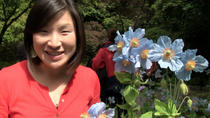 184 Reviews
Don't miss the opportunity to visit the magnificent Butchart Gardens, Victoria's most famous attraction. This 55-acre garden of colorful and aromatic flowers ... Read more
Location: Victoria, Canada
Duration: Flexible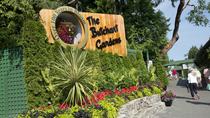 1 Review
Need to get to Seattle? Make it an experience! With the journey to Victoria equally as fascinating as the city itself, this tour offers scenic ocean travel, a ... Read more
Location: Vancouver, Canada
Duration: 15 hours (approx.)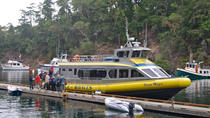 2 Reviews
Explore Butchart Gardens at your leisure and learn about the National Historic Site during a shuttle from downtown Victoria. In the afternoon, board a luxury ... Read more
Location: Victoria, Canada
Duration: 2 hours 30 minutes (approx.)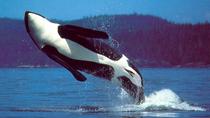 Take part in two popular attractions during this daylong trip from Vancouver. Begin by embarking on a whale-watching trip from Vancouver to Victoria, keeping ... Read more
Location: Vancouver, Canada
Duration: 12 hours (approx.)
Enjoy a helicopter ride from downtown Vancouver to Victoria over the spectacular Gulf Islands. Spend the day exploring Victoria. Admire the beauty of the ... Read more
Location: Vancouver, Canada
Duration: 10 hours (approx.)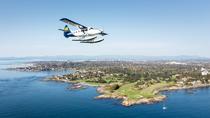 5 Reviews
You have to eat dinner somewhere, so make it a meal to remember at Butchart Gardens! This exceptional experience will have you flying by seaplane from Victoria ... Read more
Location: Victoria, Canada
Duration: 4 hours (approx.)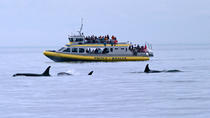 16 Reviews
Experience the natural beauty of Victoria with two memorable experiences in one day. Take a whale-watching tour from Inner Harbour around the Gulf Islands and ... Read more
Location: Victoria, Canada
Duration: 5 hours (approx.)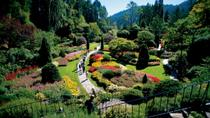 25 Reviews
Begin your tour with a 90-minute cruise aboard BC Ferries. With scenery so jaw-dropping, you won't want to blink. Relax and enjoy the voyage through Active ... Read more
Location: Vancouver, Canada
Duration: 12 hours (approx.)