Know where the polar bear capital of the world is? Why, that'd be Churchill, Manitoba, of course. A tiny town of 800 in the north Canadian wilderness, Churchill is surrounded by beautifully untouched land—arctic tundra, boreal forest and glittering dark waters on the western shore of Hudson Bay.
There are chances to see polar bears here all year-round, but it's best to come in October or early November when thousands of the mammals migrate to the shores around Churchill, waiting for Hudson Bay's subarctic waters to freeze over. Why? So they head out in search of their favorite food: ringed seals. Yum.
In town, the presence of polar bears has made a unique imprint on the community—locals often leave their cars unlocked in case someone needs to make a quick escape from an angry polar bear, and there's also the "polar bear jail," where loitering adolescent cubs who cause a nuisance are kept until the bay freezes and they can be let back into the wild.
With no roads into town, there's a definite frontier feel up here. Well, a frontier feel with great Wi-Fi. The tiny town is well geared towards tourism, with regular charter planes and train arrivals from Winnipeg, the state capital.
In specially designed tundra buggies, tours from Churchill will take you up-close to the polar bears in their natural habitat, and if you're lucky, the wild bears may even come right up to the vehicle. On an adventure day tour from the town, an expert guide takes visitors into the vast subarctic in search of the snowy white bears, as well as arctic foxes, hares, snowy owls and ptarmigan.
If vacationing in the city of Winnipeg, it's still easy to get out into the wild on a five-night Churchill tour and polar bear adventure. After all, to really get a feel for the Canadian north, Churchill deserves at least a few days' visit. You'll fly up to the town and dedicate your days to polar bear watching, wildlife spotting and dog-sledding with an expert guide. Sounds like a dream, right?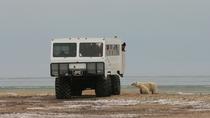 Experience a one-day, all-inclusive excursion to see polar bears in Churchill! Dreaming of locking eyes with a polar bear but don't have time for a full ... Read more
Location: Winnipeg, Canada
Duration: 1 day (approx.)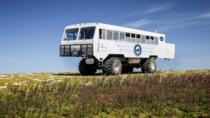 See polar bears in the wild — a once-in-a-lifetime opportunity — on a Tundra Buggy Adventure day tour! This memorable tour is designed for people who are ... Read more
Location: Winnipeg, Canada
Duration: 6 hours (approx.)
4 Reviews
Get to know the remote Manitoba town of Churchill and explore the wonders of the Canadian tundra on this 5-night wildlife adventure from Winnipeg. Known as the ... Read more
Location: Churchill, Canada
Duration: 6 days (approx.)