2556 Reviews
Address:

Mexico

Hours:

Open daily 8am - 5pm

Admission:

Adults: 95 pesos, Children (12yrs and under): Free
Chichen Itza
One of the Seven Wonders of the World, Chichen Itza - meaning "At the mouth of the well of the Itza" - is Mexico's most visited archeological site, a magnificent display of Mayan culture and the ceremonial center of the Yucatán. The highlight of Chichen Itza is the Kukulkan Pyramid, known as "El Castillo", 24 meters (79 feet) high of step pyramid construction. Mesoamerican cultures occasionally built larger pyramids on top of smaller ones and this is the case for El Castillo where an excavation discovered a temple with an elaborate jaguar throne.

At sunrise and sunset on the Spring and Fall equinoxes the corner of the pyramid casts a shadow of Kukulkan, a feathered serpent god, creating the illusion of a snake slithering down the North side with the sun's movement. The Cenote Sagrado is also an impressive natural site at Chichen Itza, featuring a sinkhole gateway into an underground body of water 60 meters (197 feet) in diameter. Visitors to Chichen Itza get a good feel for ancient Mayan culture through these impressive structures.
Practical Info
Chichen Itza is also a UNESCO World Heritage Site, made up of many stone buildings in various states of preservation, but all sites are connected by a network of roads, called sacbeob. The three most well-known of these monument complexes are El Castillo, Temple of Warriors and the Great Ball Court. While some groups like the Ossario group and Central group are open to everyone, Chichen Viejo (Old Chichen) is only open to archeologists.
1207 Reviews
Spectacular Chichen Itza holds both mystery and magic and it is a UNESCO World Heritage Site. Explore the most important archaeological zone and ancient ... Read more
Location: Cancun, Mexico
Duration: 12 hours (approx.)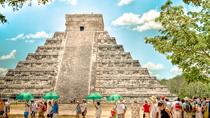 27 Reviews
Explore Chichen Itza with a bilingual certified guide to bring the history and culture of this 1,500 year old Mayan city to life through the myths, legends, ... Read more
Location: Cancun, Mexico
Duration: 12 hours (approx.)
21 Reviews
Experience the Maya sites of Chichen Itza and Tulum in the morning hours, before the majority of the crowds arrive. With this Super Saver, you can combine two ... Read more
Location: Cancun, Mexico
Duration: 2 days (approx.)
6 Reviews
Visit Chichen Itza, Valladolid and cenote Ik-Kil in one day tour with lunch included.
Location: Cancún, Mexico
Duration: 11 hours (approx.)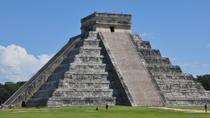 138 Reviews
Discover the Mayan city of Chichen Itza through a private entrance at Mayaland Resort, without waiting in line! On this small-group tour of this UNESCO World ... Read more
Location: Cancun, Mexico
Duration: 12 hours (approx.)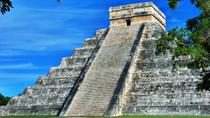 21 Reviews
Discover the mystery and allure of Chichen Itza, the ancient capital of the Mayan Empire, on a full-day tour from Playa del Carmen. At this UNESCO World ... Read more
Location: Playa del Carmen, Mexico
Duration: 12 hours (approx.)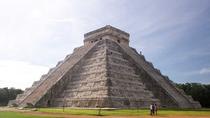 5 Reviews
Visit Chichen Itza, Ek Balam and Hubiku Cenote on this tour in the Mayan Riviera. See amazing archaeological sites and views while learning of the history of ... Read more
Location: Playa del Carmen, Mexico
Duration: 12 hours (approx.)
6 Reviews
Enjoy one of the most recommended tours to Chichen Itza. You will be picked up from your Cancun or Riviera Maya hotel and have a great time at these ruins. ... Read more
Location: Cancun, Mexico
Duration: 12 hours (approx.)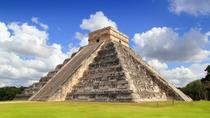 4 Reviews
Visit Chichen Itza, Coba and Ik Kil Cenote on this tour in the Mayan Riviera. See amazing archaeological sites and views while learning of the history of these ... Read more
Location: Cancun, Mexico
Duration: 12 hours (approx.)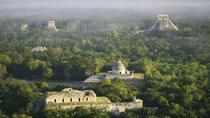 5 Reviews
Be among the first to enter Chichen Itza as the park opens. You'll avoid the crowds and enter the site from an exclusive private entrance. Take a guided ... Read more
Location: Cancun, Mexico
Duration: 10 hours (approx.)