There's little doubt that the powdery white-sand beaches and crystal-clear waters of Cancun are what most people come here for. Cancun's tourist industry is big-business, and this is why you hear the occasional news story of the Cancun government throwing millions of dollars to ensure that these beaches stay – and stay clean and white – thus ensuring future beach enjoyment for years to come. So, where are the best beaches in Cancun?

With miles of unspoiled coastline, you'll have your choice of beach from Cancun to Tulum and beyond, so picking the best beach is really up to you. Luxury spas and backpacking hostels line the coast, and you're bound to find one that suits your tastes. Still, there are local favorites:

Tulum Ruins Beach – The ancient Maya knew a good thing when they saw it, and see it they did. You'll find ancient Mayan ruins set amidst this fabulous, postcard-worthy beach.

Puerto Morelos – Located half-way between playa del Carmen and Cancun, Puerto Moroles boasts one of the finest unspoiled stretches of the Mayan Riviera. All publicly accessible, free, and easily accessed, this is where to go if you like sleepy fishing villages and the feel of getting away from it all.

Cancun Island – a dog-legged island with beautiful beaches to the East and North. Head East if you're looking for good waves, head North if you're looking for protected waters and great snorkeling.
Half Moon Bay, Akumal – Akumal is another sleepy fishing village turned hotel zone, but this bay boasts some of the best snorkeling in all of Cancun and the surrounding area, and the mom and pop restaurants make for good times.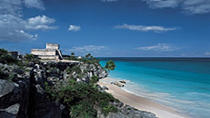 15 Reviews
Venture to the mysterious ruins of Tulum on a full day trip from Riviera Maya and enjoy the view as you explore this abandoned walled city towering above the ... Read more
Location: Riviera Maya, Mexico
Duration: 12 hours (approx.)
77 Reviews
Sail on a beautiful Trimaran through the Caribbean Sea and travel to the tropical island that sits on the imaginary line between the Gulf of Mexico and the ... Read more
Location: Cancun, Mexico
Duration: 8 hours (approx.)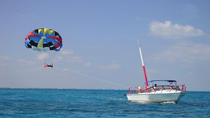 38 Reviews
Did you ever want to go parasailing but were afraid to do it alone? Imagine the feeling of soaring high above the Cancun hotel zone and exploring all the sites ... Read more
Location: Cancun, Mexico
Duration: 30 minutes (approx.)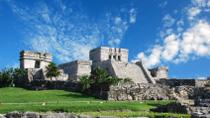 2 Reviews
Visit the mysterious ruins of Tulum and enjoy the view as you explore this abandoned walled city that towers above the deep turquoise of the Caribbean. Then ... Read more
Location: Cozumel, Mexico
Duration: 11 hours (approx.)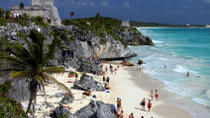 17 Reviews
Visit the Mayan city of Tulum, one of the greatest archeological sites along the Riviera Maya! This former Mayan trade site, located on a cliff-side beach ... Read more
Location: Cancun, Mexico
Duration: 1.5-5.5 hours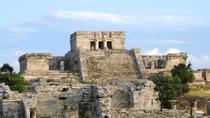 7 Reviews
Spend a day on the beautiful waters of the Caribbean on this catamaran cruise from Riviera Maya! You'll depart from Puerto Aventuras down the coast to the ... Read more
Location: Cancun, Mexico
Duration: 7 hours 30 minutes (approx.)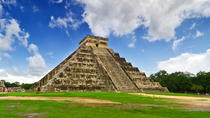 25 Reviews
Experience the best of the Yucatan on a Cancun combo tour including Chichen Itza and a catamaran sail! See the Pyramid of Kukulcán and other archeological ... Read more
Location: Cancun, Mexico
Duration: 2 days (approx.)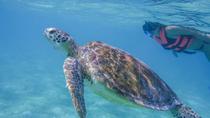 4 Reviews
Enjoy a day of snorkeling on this adventure from Cancun! Snorkel in a crystal-clear cenote, where you'll see spectacular limestone rock formations. Then, head ... Read more
Location: Cancun, Mexico
Duration: 7 hours (approx.)