Tropical forests and coastal jungle surround the resort city of Cancun and cover much of the state of Quintana Roo on Mexico's Yucatan Peninsula. Quintana Roo is one of the top ecotourism destinations in Mexico and home to a variety of plant and animal life, including numerous species of birds and reptiles, monkeys, jungle cats and marine life such as tropical fish, manatees and sea turtles. Here you'll also find spectacular natural attractions such as cenotes (limestone sinkholes), underground rivers, caverns, caves and the largest coral reef system in the Western Hemisphere. The region, which extends south along Mexico's beautiful Riviera Maya, can be best explored on Cancun jungle tours.

Adventurous travelers will find plenty of activities to get the adrenaline pumping on Cancun jungle tours. Enjoy horseback riding along scenic jungle trails, ATV adventure tours through the Cancun jungle and outback, or speed boat tours through the dense mangroves of the Nichupte Lagoon. Separating Cancun's hotel zone from the mainland, the Nichupte Lagoon is a large lagoon comprised of several smaller interlocking lagoons. It's a popular destination for sailing, birding and wildlife watching. Tours of the lagoon often include snorkeling along the Nizuk Coral Reef on the lagoon's southern end. In the evenings, the Nichupte Lagoon is the best place in Cancun to watch the sunset.

Explore even more of the jungle region when you head south to Tulum for ziplining, snorkeling, skycycling and repelling down into a cenote where you'll learn about the underground cave system and view stalagmites and stalactites, or opt for an exciting eco-adventure in the Reserva Ecologica de Sian Ka'an (Sian Ka'an Biosphere Reserve), a coastal ecological reserve and UNESCO World Heritage Site that's home to more than 350 species of birds and a wide variety of plant and animal life. Eco-adventure tours to the Sian Ka'an Biosphere Reserve include kayaking, hiking, swimming and snorkeling. Nature lovers will enjoy a guided wilderness tour of the ecological reserve, which includes a boat ride through the wetlands, wildlife spotting, hiking along remote jungle trails, visits to ancient Mayan archaeological sites and snorkeling in an underground river.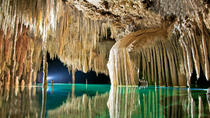 64 Reviews
Discover the mysteries of the Yucatan on a visit to Rio Secreto Nature Reserve. Enjoy an exciting afternoon adventure at Rio Secreto, where you'll wade and ... Read more
Location: Cancun, Mexico
Duration: 7 hours (approx.)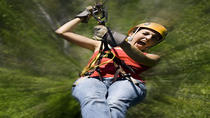 90 Reviews
Get ready for the adventure of a lifetime and come visit the largest zipline circuit in North America! With 12 ziplines covering a distance of nearly 2 miles ... Read more
Location: Cancun, Mexico
Duration: 5 hours (approx.)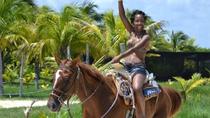 21 Reviews
See the exotic surroundings of Cancun by horseback on this relaxing day tour. Surrounded by Mexican jungle and stunning vistas, this trail ride is scenic and ... Read more
Location: Cancun, Mexico
Duration: 5 hours (approx.)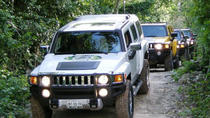 43 Reviews
Explore Cancun like never before - through the jungle and in a Hummer or Jeep! Hop aboard a fully automatic Hummer and take the adventure of a lifetime, ... Read more
Location: Cancun, Mexico
Duration: 8 hours (approx.)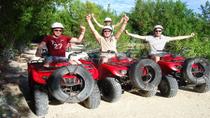 24 Reviews
Start your engines...Are you ready for the ride of your life? You'll have an unforgettable adventure driving your own all terrain vehicle along ... Read more
Location: Cancun, Mexico
Duration: 5 hours (approx.)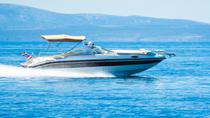 32 Reviews
On a wave runner or speedboat for two, set off from Cancun on a breathtaking tour across the Nichupte lagoon. Ride through the dense mangroves, the Nizuk River ... Read more
Location: Cancun, Mexico
Duration: 2 hours 30 minutes (approx.)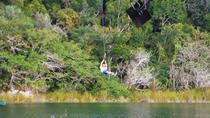 This private tour will take you on a jungle adventure at Punta Laguna Nature Reserve. You will kayak on a lagoon, zipline and soar through the jungle and hike ... Read more
Location: Cancun, Mexico
Duration: 6 hours (approx.)