Think that you've seen it all in Cancun? Think again. Though this glittering jewel of a resort town does seem to have everything a tourist could want – white sand beaches, palm trees, night clubs, and underwater activities, there's a whole lot more going on just outside Cancun's borders. If you've never been beyond the reaches of Cancun, now's a good time to start.
Chichen Itza
– Cancun is situated right on the tip of the Yucatan Peninsula and so makes a great jumping-off point to explore some ancient Maya Ruins. One of the Seven Wonders of the World, exploring Chichen Itza on a day trip tour is a gem of an experience. See the majesty and mystery of this ancient place at your own speed. The most important ecological zone of the peninsula, visiting this site you'll discover the ancient capital of the once great Mayan empire.
Playa del Carmen
– priding itself on its artist's colony and sleepy fishing village roots, Playa del Carmen is a great spot to see if Cancun seems like a bit too much. The Quinta Avenida is the center of this small town, and it's here that you'll find boutique shopping, bed and breakfasts, and some nice restaurants. Check out the freshwater cenote if you're into diving, otherwise just laze by the beach and get some much needed R&R.
Cozumel
is a little island off the coast, world renowned for being a little sleepy spot in the Caribbean and known for its excellent fishing and underwater diving. If the hustle and bustle of Cancun has got you fed up, head to Cozumel.
The Xcaret Parks
are for the environmental lover in you. Spend the day in paradise snorkeling some of the best bays in all of Mexico, see live fire dancing ceremonies, or kayak the mangroves. The Xcaret Parks are less than an hour's drive from Cancun, and some of the best fun around.

Contributed by Hudson Hornick
1250 Reviews
Spectacular Chichen Itza holds both mystery and magic and it is a UNESCO World Heritage Site. Explore the most important archaeological zone and ancient ... Read more
Location: Cancun, Mexico
Duration: 12 hours (approx.)
31 Reviews
Indulge in some of the greatest attractions on offer in the Yucatan with this Cancun combo! Select two out of four amazing options – Xcaret, Xel-Ha, Xplor or ... Read more
Location: Cancun, Mexico
Duration: 12 hours (approx.)
240 Reviews
Tour Tulum, one of the most famous Mayan sites, with a private archaeologist — a Viator exclusive available nowhere else! Arrive in the early morning and miss ... Read more
Location: Cancun, Mexico
Duration: 8 hours (approx.)
35 Reviews
Experience the Maya sites of Chichen Itza and Tulum in the morning hours, before the majority of the crowds arrive. With this Super Saver, you can combine two ... Read more
Location: Cancun, Mexico
Duration: 2 days (approx.)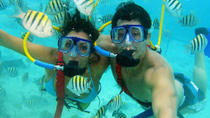 51 Reviews
Attention water lovers: Paradise awaits at Xel-Há, a natural aquarium located along the Riviera Maya. Angelfish, iguanas and other wildlife complete your ... Read more
Location: Cancun, Mexico
Duration: 8 hours (approx.)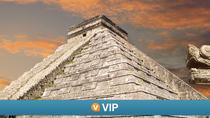 41 Reviews
See the best of Chichen Itza by day and night on this Viator VIP tour available nowhere else. Sail past the hordes waiting to enter the UNESCO World Heritage ... Read more
Location: Cancun, Mexico
Duration: 13 hours (approx.)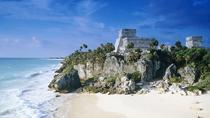 12 Reviews
Seize a full day by visiting the three most know places: Tulum and Coba Ruins, the Cenote Tankach-Ha and enjoy a Lunch Buffet. Visit these two unique ... Read more
Location: Cancun, Mexico
Duration: 1 day (approx.)
19 Reviews
Get to know one of the New7Wonders of the World during this full-day tour of Chichen Itza and Valladolid. At the ancient Maya site, admire the Kukulkan pyramid ... Read more
Location: Cancún, Mexico
Duration: 11 hours (approx.)
40 Reviews
Discover the ancient city of Coba, without the crush of crowds, on this early morning tour with an archaeologist guide — a Viator Exclusive that can't be ... Read more
Location: Cancun, Mexico
Duration: 10 hours (approx.)
837 Reviews
Gain essential insights into Mexico's past on a visit to Chichen Itza with a private archaeologist. Miss the crowds by visiting in the early morning, and see ... Read more
Location: Cancun, Mexico
Duration: 10 hours (approx.)