Tropical forests and coastal jungle surround the resort city of Cancun and cover much of the state of Quintana Roo on Mexico's Yucatan Peninsula. Here are some tour ideas, from horseback riding and ATV adventures to boat rides through mangroves.
Ziplining
Zipping hundreds of feet above the lush jungle canopy is a great way for adventure junkies to get their adrenaline fix. Fly above panoramic vistas of the Mayan jungle below as you zip from platform to platform on a jungle zipline tour.
Off-Road and ATV Rides
Drive your own off-road vehicle through the lush jungle on an ATV tour. Motor past native coconut palms and mangrove trees as you rumble through the jungle. After a ride through the sweltering jungle, cool off by diving into the ocean at a pristine white sand beach before heading back through the jungle.
Speedboat Tours
On a waverunner or a two-person speedboat, race across Nichupte Lagoon, through the Cancun jungle, and past green mangrove channels toward a coral reef. Cool off as the wind whips through your hair while you speed up the Nizuk River toward the Mexican Caribbean.
Horseback Riding
Escape the hotel zone and see the exotic surroundings of Cancun by horseback on a relaxing tour through the lush jungle forests. At a mellow pace, enjoy picturesque vistas of the Riviera Maya, exotic scenery, and native wildlife life as you set out on a trail through the jungle surroundings.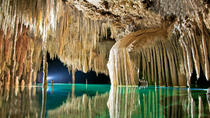 101 Reviews
Discover the mysteries of the Yucatan on a visit to Rio Secreto Nature Reserve. Enjoy an exciting afternoon adventure at Rio Secreto, where you'll wade and ... Read more
Location: Cancun, Mexico
Duration: Flexible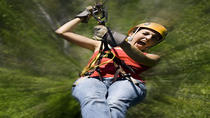 102 Reviews
Get ready for the adventure of a lifetime and come visit the largest zipline circuit in North America! With 12 ziplines covering a distance of nearly 2 miles ... Read more
Location: Cancun, Mexico
Duration: 5 hours (approx.)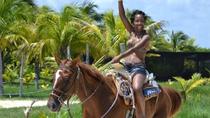 30 Reviews
See the exotic surroundings of Cancun by horseback on this relaxing day tour. Surrounded by Mexican jungle and stunning vistas, this trail ride is scenic and ... Read more
Location: Cancun, Mexico
Duration: 5 hours (approx.)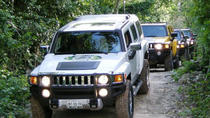 46 Reviews
Explore Cancun like never before - through the jungle and in a Hummer or Jeep! Hop aboard a fully automatic Hummer and take the adventure of a lifetime, ... Read more
Location: Cancun, Mexico
Duration: 8 hours (approx.)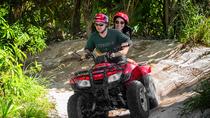 34 Reviews
Start your engines...Are you ready for an extreme ride? Enjoy an unforgettable adventure driving your own all terrain vehicle crossing paths through the ... Read more
Location: Cancun, Mexico
Duration: 5 hours (approx.)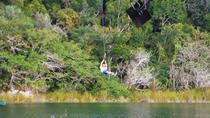 This private tour will take you on a jungle adventure at Punta Laguna Nature Reserve. You will kayak on a lagoon, zipline and soar through the jungle and hike ... Read more
Location: Cancun, Mexico
Duration: 6 hours (approx.)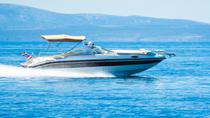 33 Reviews
On a wave runner or speedboat for two, set off from Cancun on a breathtaking tour across the Nichupte lagoon. Ride through the dense mangroves, the Nizuk River ... Read more
Location: Cancun, Mexico
Duration: 2 hours 30 minutes (approx.)