In a city like Cancun, where the sun is hot, the beaches white and the Coronas cold, people will do anything they can to get outside. While it's easy to opt for the beach bum image in this tropical paradise, the rest of the city begs to be explored, whether by way of ATV, zipline, boat or even horse.
Cancun's lush jungle is a must-see natural wonder with its cenotes (water-filled sinkholes) and array of colorful sights. The secluded cenotes are prime spots for swimming or even kayaking, and jungle trails are open for relaxing horseback rides that allow you to take in the scenery. If you're looking for an adrenaline rush, you can also drive an ATV through Cancun's grassland, hop on an off-road buggy or zipline on a thrilling jungle canopy adventure.  
One of the best places to experience the lively Mexican-Caribbean wilderness is at the Sian Ka'an Biosphere Reserve, which includes remote Mayan sites, wetlands and 1 million miles of coastal jungle. This UNESCO World Heritage Site makes for a perfect day trip from Cancun. 
While heading north from Cancun in search of adventure, you'll run into the Tulum Ruins, which offer a priceless glimpse into the lives of the ancient Mayans who once had entire run of the land. Set on a bluff overlooking the Caribbean Sea, the Tulum Ruins are one of the most-visited archeological sites in the world.
If you do want to start at the beach, hop in the water and snorkel with Mexico's gentle giants – whale sharks. Learn about the world's largest fish from an expert guide while exploring the Gulf of Mexico reef, and be sure to keep an eye out for dolphins and manta rays as well. Once you get a guaranteed eyeful of Caribbean Sea creatures, relax in Playa Norte off the coast of Isla Mujeres, a beach bum destination.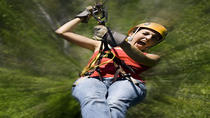 90 Reviews
Get ready for the adventure of a lifetime and come visit the largest zipline circuit in North America! With 12 ziplines covering a distance of nearly 2 miles ... Read more
Location: Cancun, Mexico
Duration: 5 hours (approx.)
67 Reviews
Set out on an eco-adventure through the Cancun jungle via zipline and ATV on this exciting combo tour, including a visit to a refreshing cenote! Soar through ... Read more
Location: Cancun, Mexico
Duration: 5 hours (approx.)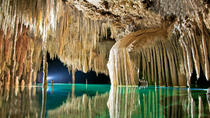 64 Reviews
Discover the mysteries of the Yucatan on a visit to Rio Secreto Nature Reserve. Enjoy an exciting afternoon adventure at Rio Secreto, where you'll wade and ... Read more
Location: Cancun, Mexico
Duration: 7 hours (approx.)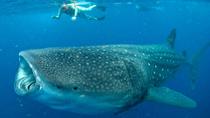 56 Reviews
Go for a snorkel with Mexico's gentle giants - whale sharks! Cruising the Gulf of Mexico with an expert guide, you'll snorkel with the biggest fish and ... Read more
Location: Cancun, Mexico
Duration: 8 hours (approx.)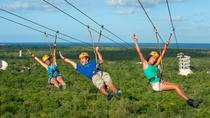 54 Reviews
Indulge your love for adventure at Xplor Adventure Park, located less than an hour from Cancun. Soar through the treetops on the highest ziplines in the ... Read more
Location: Cancun, Mexico
Duration: 12 hours (approx.)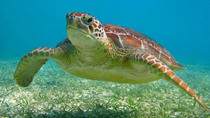 46 Reviews
Enjoy a half-day tour in Akumal with snorkeling, and get the chance to visit a coral reef where you can see and swim with fish and turtles. You'll also visit ... Read more
Location: Cancun, Mexico
Duration: 5 hours (approx.)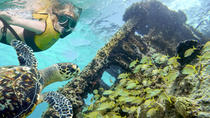 40 Reviews
Swim among big schools of fish, turtles, and colorful coral reefs during this 3.5-hour shipwreck-exploration tour. Paddle through warm Caribbean waters as you ... Read more
Location: Cancun, Mexico
Duration: 3 hours 30 minutes (approx.)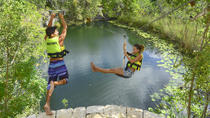 23 Reviews
Leap into four different cenotes (flooded sinkholes) amid a jungle oasis in the Yucatan – all in one day! Rappel and zipline over rock walls into the ... Read more
Location: Cancun, Mexico
Duration: 10 hours (approx.)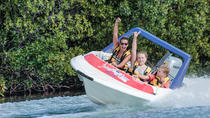 13 Reviews
Enjoy two water activities on this Cancun jungle tour adventure. First, embark on a thrilling speed boat ride around the Nichupte Lagoon to get the adrenaline ... Read more
Location: Cancun, Mexico
Duration: 2 hours 30 minutes (approx.)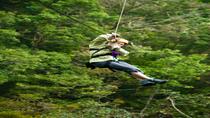 7 Reviews
Get your adrenaline pumping as you zipline through the trees and then drive your own buggy off-road to a remote cenote! This combo tour takes you to North ... Read more
Location: Cancun, Mexico
Duration: 5 hours (approx.)