Cancun is known for its breathtaking beaches, beautiful waters and endless sunshine, so what better ways to enjoy the outdoors than with a splash in the pool or a romp down a twisting waterslide? The water parks of Cancun offer not only fun in the sun, but some great outdoor adventure as well. An ideal departure from the norm for singles and families alike, these parks provide thrilling ways to enjoy the sun.
One of the more relaxing water parks in Cancun, Parque Agua Escondida is home to numerous baths, cute cabana huts and gentle slides. Known for its serene atmosphere, manicured gardens, and wild peacocks that roam the grounds, this park is a great way to relax and enjoy the scenery, especially for those with small children or just want a peaceful, good time.
Wet n' Wild Cancun is a more traditional action-packed waterpark, complete with tube rides, single slides and a lazy river. Both adventure and relaxation await, so whether you're looking for a hair-raising (and wet) good time or just want to lie out in the sun, Wet n' Wild is the spot. There's even an option to swim with dolphins!
Sea Adventure Resort and Water Park is where visitors bring their little ones to go wild. With a gorgeous beach, a pool and plenty of waterslide action, both adults and kids will be engaged for hours on end. There are always activities going on in the pool and around the site, so consider this your resort of choice for nonstop waterpark action.
31 Reviews
Indulge in some of the greatest attractions on offer in the Yucatan with this Cancun combo! Select two out of four amazing options – Xcaret, Xel-Ha, Xplor or ... Read more
Location: Cancun, Mexico
Duration: 12 hours (approx.)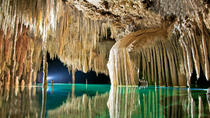 64 Reviews
Discover the mysteries of the Yucatan on a visit to Rio Secreto Nature Reserve. Enjoy an exciting afternoon adventure at Rio Secreto, where you'll wade and ... Read more
Location: Cancun, Mexico
Duration: 7 hours (approx.)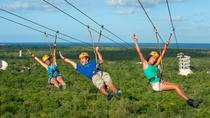 54 Reviews
Indulge your love for adventure at Xplor Adventure Park, located less than an hour from Cancun. Soar through the treetops on the highest ziplines in the ... Read more
Location: Cancun, Mexico
Duration: 12 hours (approx.)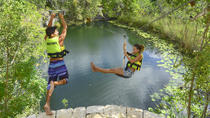 23 Reviews
Leap into four different cenotes (flooded sinkholes) amid a jungle oasis in the Yucatan – all in one day! Rappel and zipline over rock walls into the ... Read more
Location: Cancun, Mexico
Duration: 10 hours (approx.)