Only Show: Boat Rental | Jet Boats & Speed Boats | Kayaking & Canoeing | Other Water Sports | Parasailing & Paragliding | Scuba Diving | Shark Diving | Snorkeling | Swim with Dolphins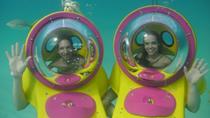 6 Reviews
Take an underwater ride on your own scooter! On your Breathing Observation Bubble (BOB), you don't have to wear a mask or worry about getting your head wet. ... Read more
Location: Cancun, Mexico
Duration: 2 hours and 45 minutes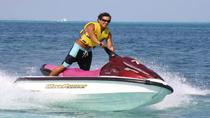 8 Reviews
Add a little adventure to your vacation with a Cancun waverunner and snorkel tour! From the marina, you and a friend will board a two-person waverunner and ... Read more
Location: Cancun, Mexico
Duration: 2 hours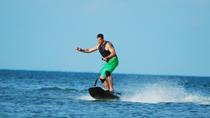 1 Review
Fans of water sports will dig the new adrenaline experience of Jetsurfing. Strap your feet onto a lightweight motorized surfboard, built to handle a variety of ... Read more
Location: Cancun, Mexico
Duration: 90 minutes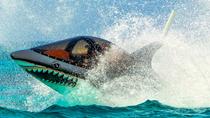 Be prepared for an adrenaline-packed experience. Ride in an 18' Great White Shark Seabreacher above and below the crystal waters of the Caribbean seas. ... Read more
Location: Cancún, Mexico
Duration: 20 minutes
Feel the power of a 260hp engine at a max speed of up to 80kph in the turquoise waters of Cancun. This is a trip full of adrenaline.  Security is guaranteed ... Read more
Location: Cancún, Mexico
Duration: 20 minutes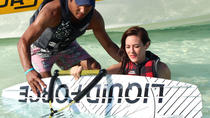 Learn or practice Wakeboarding in Cancun and have an unforgettable experience. You may also like to try other sports such as Wake Skate, Wake Surf, Skis, ... Read more
Location: Cancun, Mexico
Duration: 30 minutes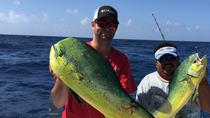 1 Review
Have a fun adventure in this Deep Sea Fishing Tour around 12 miles from Cancun at Isla Mujeres. You will try Trolling for Big Fishes like Tunas, Amberjack, ... Read more
Location: Isla Mujeres, Mexico
Duration: 6 hours
Enjoy a unique excursion with this totally different water sport as you will go flying over the Caribbean Sea in a board boosted by water streams.
Location: Cancun, Mexico
Duration: 20 minutes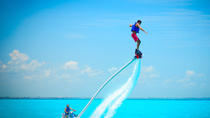 1 Review
Have you ever wondered how would it be to fly like a superhero? This is your moment to find out in this fun flyboard adventure!
Location: Cancún, Mexico
Duration: 20 minutes
2 Reviews
Within the beautiful setting of the turquoise waters of Cancun, adventurers from all over the world seek this life-changing experience, which combines nature ... Read more
Location: Cancun, Mexico
Duration: 20 minutes
People throughout the beach watch breathlessly while you fly across the sky. Enjoy this unique water sport in the crystal-clear Caribbean waters of Cancun. All ... Read more
Location: Cancun, Mexico
Duration: 20 minutes
Have a memorable time as you enjoy a 20-minute jetpack flight over Nichupte Lagoon in Cancun. Your tour includes all necessary equipment and a professional ... Read more
Location: Cancun, Mexico
Duration: 20 minutes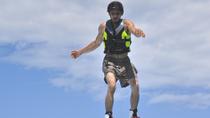 2 Reviews
Get off the beach and into the air on the latest craze in water sports — the Flyboard. Invented in 2011, the Flyboard is a personal water jetpack that ... Read more
Location: Cancun, Mexico
Duration: 20 or 30 minutes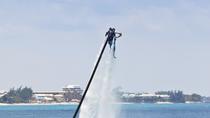 1 Review
Fly over Nichupte Lagoon with a thrilling jetpack experience in Cancun! You'll feel weightless as you are lifted from the water and launched 30 feet (9 ... Read more
Location: Cancun, Mexico
Duration: 20 minutes
Only Show: Boat Rental | Jet Boats & Speed Boats | Kayaking & Canoeing | Other Water Sports | Parasailing & Paragliding | Scuba Diving | Shark Diving | Snorkeling | Swim with Dolphins