Cannes RECOMMENDATIONS See all
Cannes Fireworks Art Festival
By Viator, August 2015
No reviews, be the first!
With the sky lit up in a kaleidoscope of color and fiery plumes dramatically synchronized with music, it's no wonder that the legendary Cannes summer fireworks displays are a highlight for many visitors. A series of fireworks competitions held throughout the French Riviera and Monaco, the Cannes Pyrotechnic Art Festival (Festival d'Art Pyrotechnique) dates back to 1967 and features a series of equally mesmerizing fireworks displays held over six nights throughout July and August. 
Each night sees pyromusical showcases from international competitors, each pushing the boundaries to create the most show-stopping spectacle of light, sound, music and fireworks, set against a backdrop of the elegant Cannes waterfront.
Joining the 200,000 spectators who turn out to watch the fireworks is an experience in itself with the seaside promenade, terrace bars and restaurants teeming with people, but the most impressive views can be found at sea. Take a two-hour private fireworks cruise from Cannes and get a taste of the high-life, sipping champagne as you sail along the Côte d'Azur coast on a luxury yacht, before enjoying a prime view of the 25-minute long fireworks display set off from a series of offshore barges.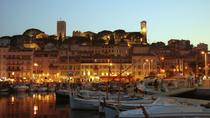 Behold a dazzling fireworks show from a catamaran during this summer dinner cruise in Cannes. Sail across the iconic Bay of Cannes aboard the 'Rivage ... Read more
Location: Cannes, France
Duration: 3 hours (approx.)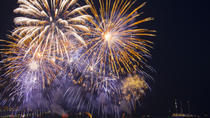 Enjoy an evening fireworks display over the French Riviera on this 2-hour private cruise from Cannes. Ride a Sunseeker Superhawk 34 luxury yacht along the ... Read more
Location: Cannes, France
Duration: 2 hours (approx.)