South Africa has gained an enviable reputation for its wines, first decanted here 350 years ago. Winemaking traditions from France, Germany and Italy have come together to create New World wines that make South Africa one of the top 10 wine-producing countries in the world.

With fertile valleys lined with neatly ordered vineyards, European-style whitewashed gabled farmhouses and rugged mountains framing the horizon, touring Cape Town's Wineland is a stellar way to combine sightseeing and relaxing in this picturesque region.


The West Cape's Mediterranean climate, with cold winters and sunny summers, is well suited to winegrowing, and the best-known wine regions are at Stellenbosch, Franschhoek, Wellington and Paarl. The signature red wine grape is pinotage, blending pinot noir and cinsault to produce an earthy, fruity drop. South African sparkling wines are also celebrated, and are known as Cap Classique.


The classic pinotage wines come from Stellenbosch, which is also the most convenient wine region as it's less than an hour from Cape Town. The region also produces well-regarded cabernet sauvignon, merlot, and shiraz reds, and chardonnay and oaked chenin blanc whites.


The Stellenbosch wine route passes the scenic wonders of Hout Bay, Chapman's Peak and beachside Muizenberg. It's well worth spending time in the town of Stellenbosch itself, known for its university swagger, galleries, museums and restaurants. Vineyards to look out for around Stellenbosch include Neethlingshof, Delheim, Spier, Charmony, Merelust, Saxenburg, Welmoed and Delair.


Franschhoek and Paarl can be combined with Stellenbosch for a scenic wine route, passing the Franschhoek and Drakenstein mountains. Paarl is known for its fortified wines and shiraz, and is the historic home of South Africa's wine industry association, KWV.


Francophile Franschhoek is another historic town on the wine route, known for its Cap Classique bubbles, Semillon wines and superb French restaurants. Vineyards to look for include Graham Beck, Akkerdal, Grande Provence and Lynx.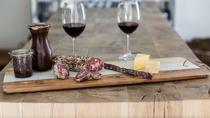 Taste excellent food and superb wine from some of the best estates in South Africa's culinary capital, Franschhoek. This private, full-day foodie tour takes ... Read more
Location: Franschhoek, South Africa
Duration: 7 hours (approx.)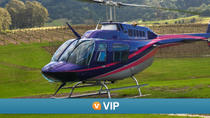 2 Reviews
Enjoy an afternoon of food, wine and scenery on this exclusive helicopter tour from Cape Town to Cape Winelands, one of South Africa's premier ... Read more
Location: Cape Town, South Africa
Duration: 5 hours (approx.)
27 Reviews
Discover South Africa's famous wine regions on this full-day private tour to Stellenbosch, Franschhoek and Paarl. Leaving the city lights of Cape Town behind, ... Read more
Location: Cape Town, South Africa
Duration: 8 hours (approx.)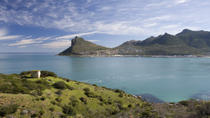 74 Reviews
With this Cape Town Super Saver you'll get two best-selling tours at one discounted price. Combine Cape Point with a Stellenbosch wine tour. You'll experience ... Read more
Location: Cape Town, South Africa
Duration: 9 hours (approx.)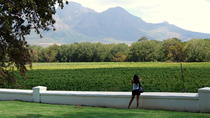 1 Review
Explore the fantastic wine regions of Paarl, Franschoek, and Stellenbosch on this 8-hour tour. Visit four top vineyards to learn about South African wines. ... Read more
Location: Cape Town, South Africa
Duration: 8 hours (approx.)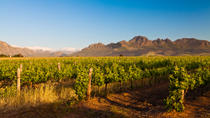 17 Reviews
Visit the heart of the beautiful Stellenbosch winemaking region on a half-day wine tour from Cape Town! The perfect activity if you're short on time, this ... Read more
Location: Cape Town, South Africa
Duration: 3 hours (approx.)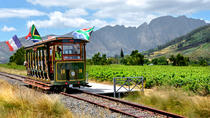 Take a leisurely journey through the rolling vineyards of South African wine country on the Franschhoek Wine Tram. During this 8.5-hour tour from Cape Town, ... Read more
Location: Cape Town, South Africa
Duration: 8 hours 30 minutes (approx.)
4 Reviews
Embark on a tantalizing tour of the Stellenbosch Winelands on this full-day tour from Cape Town. Stop at Ernie Els Wines to take part in a guided wine tasting. ... Read more
Location: Cape Town, South Africa
Duration: 8 hours (approx.)
This 5 day tour gives you the opportunity to explore the amazing City of Cape Town and the beautiful Winelands Region as well as the rugged West Coast. Cape ... Read more
Location: Cape Town, South Africa
Duration: 5 days (approx.)
1 Review
Save 10% when booking this 2-Day Cape Town Super Saver deal that combines two top-selling full-day tours as a package. Discover the wonders of the Cape ... Read more
Location: Cape Town, South Africa
Duration: 2 days (approx.)