Visitors to Cape Town usually love how the city's urban flair and vibrant nightlife coexists happily alongside its stunning location and proximity to great outdoor activities like beach-combing and hiking. But you may not realize there are great wildlife safari trips you can take from Cape Town, too.

There is wildlife throughout South Africa, and you don't have to go too far outside the cities in order to find it. In fact, in many cases, the wildlife will even come into the cities. In Cape Town, any day trip in the Cape Peninsula can include sightings of penguins, baboons, and other wild animals — even when "safari" isn't on the day's agenda.

You can take a day-long safari trip from Cape Town to a reserve like the Aquila Game Reserve, which is the closest one to the city, and possibly see every one of the so-called "Big Five" in one day. Of course, that would be an incredibly lucky day, and seeing the "Big Five" often takes multiple game drives — which you can do in multiple day trips from Cape Town, or by staying for a few days at a game reserve in the area on a short side trip from Cape Town.

If your idea of a safari involves water-based animals instead of land-based ones, then take a day trip to Hermanus from Cape Town and go whale watching. This pretty coastal city is actually ideal for land-based whale watching, or you can go out in a boat. Hermanus is also a place where you can go shark cage diving, if you're more interested in a wildlife adrenaline rush.

One of the perks of going on a wildlife safari from Cape Town is that much of this part of South Africa is a malaria-free zone, so if your visit to the country is restricted to Cape Town and the Cape Peninsula you can probably skip the anti-malarial drugs altogether.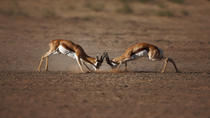 70 Reviews
Visit the incredible Aquila Game Reserve -- the closest game reserve to Cape Town – on this full-day safari tour! With hotel pickup from your central Cape Town ... Read more
Location: Cape Town, South Africa
Duration: 10 hours (approx.)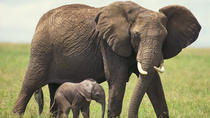 See the Big Five and more on this private overnight Western Cape safari trip from Cape Town. With your very own guide, get up close to some of the world's most ... Read more
Location: Cape Town, South Africa
Duration: 2 days (approx.)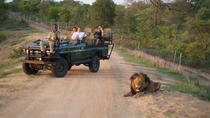 1 Review
Experience Africa's most noble creatures on their own land at the incredible Inverdoorn Nature Reserve. Travel 2.5 hours from Cape Town to Inverdoorn to ride ... Read more
Location: Cape Town, South Africa
Duration: 1 day (approx.)
27 Reviews
Go wild in the Western Cape on an overnight safari trip from Cape Town! With an expert game-ranger guide at your side, set out on a game drive to see Africa's ... Read more
Location: Cape Town, South Africa
Duration: 2 days (approx.)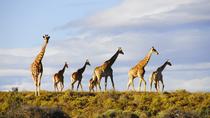 4 Reviews
Take a walk on the wild side with an authentic South African safari day tour, conveniently located within reach of Cape Town. The resident animal life on this ... Read more
Location: Cape Town, South Africa
Duration: 10 hours (approx.)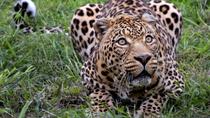 3 Reviews
On your private safari you will have the opportunity to look for the Big 5, these being: lions, buffalos, elephants, rhino, leopards. Keep an eye our for many ... Read more
Location: Cape Town, South Africa
Duration: 8 hours (approx.)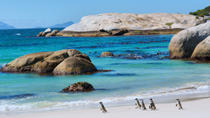 4 Reviews
Leave Cape Town behind to take a marine cruise where you can see great white sharks, whales, Cape fur seals and a variety of seabirds. On a 2-hour cruise from ... Read more
Location: Cape Town, South Africa
Duration: 8 hours (approx.)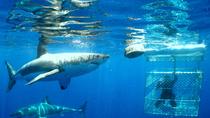 3 Reviews
Through the ages, the great white shark has stirred up emotions of fear and fascination. Join this expedition into the noble savages world. You could get close ... Read more
Location: Cape Town, South Africa
Duration: 1 day (approx.)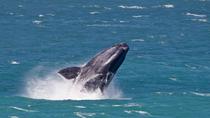 24 Reviews
Take this opportunity to go whale watching from one of the best land based viewing spots in the world, Hermanus. From July to November the Southern Right Whale ... Read more
Location: Cape Town, South Africa
Duration: 8 hours (approx.)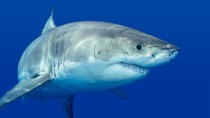 Descend into the blue waters of Gansbaai, a hotspot for the Great White Shark, on a heart-pounding experience, just for your sole group. This private shark ... Read more
Location: Cape Town, South Africa
Duration: 8-10 hours