It's one of the strangest landscapes you'll ever see: the cliffs and valleys and fairy chimneys of Göreme National Park in Cappadocia. Wind and water erosion scoured out this land of soft volcanic ash (tufa) leaving this extraordinary place of valleys and pillars, some of which rise to 130 feet (40m).
 
The earliest settlers were Christian exiles in Roman times and they carved churches into the rock, along with houses and tombs. In the Middle Ages Göreme became an important religious center with monasteries, churches and chapels; many of which have impressive Byzantine religious wall paintings. Some of the most important are Basil Kilise (St Basil's Church), Elmali Kilise (Apple Church), and the richly decorated Tokali Kilise (Buckle Church), which is the oldest. The best-preserved and recently restored frescoes can be found in the Karanlık Kilise (Dark Church).
 
The town of Göreme itself is the center of this UNESCO World Heritage site and only a 15 minute walk from the Göreme Open Air Museum (1 mile/1.5 km), which is open every day but it's wise to go early during summer months, before the heat hits. Some people in Göreme still live in cave houses and many have been turned into hotels.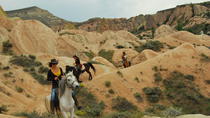 1 Review
Take a horse back ride in Cappadocia for 2 hours in the valleys of Göreme National Park. You'll pass through Swords Valley, Rose Valley, Cavusin Village, ... Read more
Location: Göreme, Turkey
Duration: 2 hours (approx.)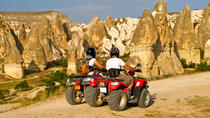 2 Reviews
Cappadocia 2 hr ATV Tours around Goreme valley Rose Valley Swords Valley Love Valley and finish with Cappadocia Sunset and enjoy local wine!
Location: Göreme, Turkey
Duration: 2 hours (approx.)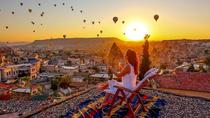 This Cappadocia 2-day tour package departs from Istanbul hotel. Along with a professional tour guide, you will visit historic sites in Cappadocia such as Red ... Read more
Location: Istanbul, Turkey
Duration: 2 days (approx.)