The wonderful landscape of Cappadocia was formed thousands of years ago by wind and water erosion on soft volcanic rock. This left cliffs and valleys and also the spectacular chimneys of rock rising up to 130 ft (40m). The softness of the volcanic ash rock (tufa) enabled the inhabitants of the area to dig into the cliffs to make houses and churches, or deep underground to create cities to shelter from attackers.
Some sites you won't want to miss are:
Pigeon Valley for its fairy chimneys, locally called peri bacaları, which used to be pigeon dovecotes.
Göreme Open Air Museum with its cave churches and Byzantine frescoes.
Devrent (Imagination) Valley with its animal-shaped rock formations.
The underground cities of Kaymaklı (the largest) and Derinkuyk (the deepest), made up of many levels of city dug into the rock including stables and kitchens and churches.
Ortahisar Castle, a fortress dug into the rock during Roman times and honeycombed with tunnels and rooms. 
Ihlara Valley, the deepest gorge of Cappadocia with its spectacular cliffs and cave churches.

Cappadocia includes the towns of Ürgüp, Göreme, Avanos, Uçhisar, Derinkuyu, Kaymaklı and Ihlara Valley; and from all these places you can reach many, wonderful valleys and hills of other-worldly rock formations. Explore by foot, car, bicycle, horse, camel or hot air balloon and you'll see sights you'll never forget.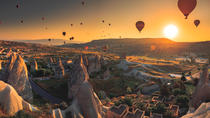 34 Reviews
Discover the stunning landscape of the Cappadocia region of Turkey from a hot-air balloon! Admire Cappadocia's beautiful scenery of tall, volcanic rock spires ... Read more
Location: Cappadocia, Turkey
Duration: 3 hours 30 minutes (approx.)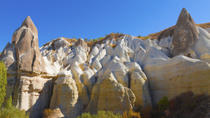 19 Reviews
Take time out to tour Turkey's famous moon-like landscape of Cappadocia — on a two-day excursion from Kayseri. You'll visit UNESCO World Heritage Sites like ... Read more
Location: Cappadocia, Turkey
Duration: 2 days (approx.)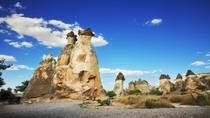 7 Reviews
Wonder at the natural and man-made treasures of Cappadocia on this full-day tour! Mother Nature has turned the region's volcanic hills into crowds of bizarrely ... Read more
Location: Cappadocia, Turkey
Duration: 8 hours (approx.)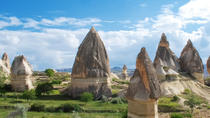 8 Reviews
Take in the highlights of Turkey's southern Cappadocia region on this full-day tour. With an expert local guide, delve into the extraordinary Kaymakli ... Read more
Location: Cappadocia, Turkey
Duration: 8 hours (approx.)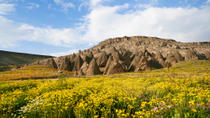 5 Reviews
Discover stunning Ihlara Valley in the south of Cappadocia on this unforgettable full-day tour. Traveling by air-conditioned coach, your tour passes through ... Read more
Location: Cappadocia, Turkey
Duration: 8 hours (approx.)