Cappadocia is a place where you'll want to spend all your time outdoors – it is such a spectacular landscape you'll want to see it from every angle.
 
Hot air ballooning is very popular and looking down on those craggy cliffs, deep valleys, red rivers and jutting fairy chimneys, you'll probably want to do it a second time.
 
The Kızılırmak, or Red River, which runs through Avanos is Turkey's longest river and you can go canoeing or take the full plunge and head off for a few days of rafting along this distinctively red silt river.
 
Walking, hiking and bike-riding are also popular as there is so much to see around every cliff and bend. 328 ft (100 m) deep Ihlara Valley is one of the most popular places to hike with its cave churches, trees and winding route. Pigeon Valley is also popular for its many fairy chimneys, once pigeon rooks.
 
Cappadocia is known as The Land of Beautiful Horses and to go a little further out of town and see the landscape as the local people have for centuries, head out on horseback into the further away Swords Valley, Meskendir Valley, Rose Valley and Love Valley and ride amongst the orchards and vineyards. If you feel more adventurous head into the landscape on a camel!
 

Keep in mind that during the summer months, Cappadocia gets very hot so plan activities for early morning or later in the day. During the hottest hours perhaps you can explore the underground cities, visit a winery or sip tea under the trees of the Ihlara Valley.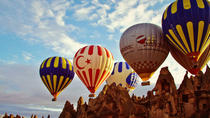 22 Reviews
A must do in Cappadocia is take a balloon ride in order to see the sights from a vantage point like no other. On this 1-hour flight at sunrise you will ... Read more
Location: Göreme, Turkey
Duration: 60 minutes (approx.)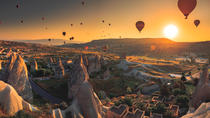 33 Reviews
Discover the stunning landscape of the Cappadocia region of Turkey from a hot-air balloon! Admire Cappadocia's beautiful scenery of tall, volcanic rock spires ... Read more
Location: Cappadocia, Turkey
Duration: 3 hours 30 minutes (approx.)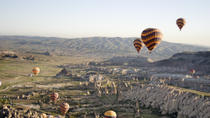 5 Reviews
Discover Cappadocia from the air on this early morning 1-hour or 1.5-hour hot air balloon ride. Travel to the launch site in an air-conditioned minivan, and ... Read more
Location: Cappadocia, Turkey
Duration: 3 hours 30 minutes (approx.)