With its atmospheric streets, dramatic castle and rugged coastline, it's easy to see why Cardiff makes a popular UK filming location, but the Welsh capital is also home to a distinguished TV and film industry and second only to London as the headquarters for leading broadcaster, the BBC. 
Along with the BBC, national TV broadcasters ITV Wales and S4C also have their headquarters in Cardiff and a variety of classic UK TV shows like Casualty, Sarah Jane Adventures, Merlin and Torchwood have been filmed in the city.  
Perhaps Cardiff's most famous foray onto the small screen is as the setting for legendary sci-fi drama, Doctor Who, and a Dr Who tour of Cardiff is top of the itinerary for fans of the fictional Timelord. As well as checking out renowned on-screen locations like Amy Pond's village, Sarah Jane's home and Llandaff – used as the fictional village of Leadworth – Dr Who fanatics can immerse themselves in the real-life sets, props and costumes from the series at the interactive Cardiff Dr Who Experience. You can even 'ride' in a TARDIS – the Dr's iconic time-traveling police booth.
More recently, hit British comedy drama Gavin & Stacey has also made its home in the city and fans can tour a number of filming locations featured in the series. Tours take in the peninsula town of Barry, Stacey's home in the series, with recognizable sights including Nessa's chair in the Barry amusement arcade and Stacey's house, and you'll even get to drive around in Dave's Coach – the original vehicle as seen on screen.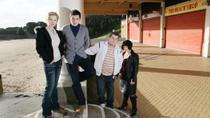 6 Reviews
Head to Barry Island for a 3-hour 'Gavin and Stacey' TV location tour aboard a bus used in the series! The popular British series charted an endearing romance ... Read more
Location: Cardiff, United Kingdom
Duration: 3 hours (approx.)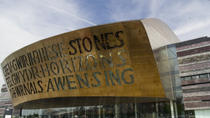 12 Reviews
Follow the trail of 'Doctor Who' around Cardiff on a 3-hour sightseeing tour by bus! The 3-hour TV locations tour is the perfect experience for fans of the ... Read more
Location: Cardiff, United Kingdom
Duration: 3 hours (approx.)
7 Reviews
Discover the 'Doctor Who' world of daleks, sontarans and extraterrestrials on a day trip to Cardiff by London black cab! With a private driver as a guide, ... Read more
Location: London, United Kingdom
Duration: 12 hours 30 minutes (approx.)