With the Bahamas, Puerto Rico and the U.S. Virgin Islands all on this list, you can expect great shopping, world-famous diving and unforgettable sailing in the Eastern Caribbean.
Cruise liners visiting Antigua dock at the capital of St. John's on the island's west coast, while Antigua's sister island of Barbuda is an easy day trip by catamaran for shore visitors. In St John's, visitors can stop at the market, head out on an off-road beach safari or hit the water at Cade Reef for snorkeling. Barbuda has its own pristine beaches and a frigate bird sanctuary.
With hundreds of tiny islands and cays waiting to be explored, the Bahamas are an adventure from the moment you step off the ship. From beach resorts and waterfront restaurants to an underwater submarine and waterparks, the Bahamas don't lack much of anything when it comes to Caribbean vacations.
Nassau is your most likely port of entry for the Bahamas, on the island of New Providence. Cruise liners anchor at Prince George Wharf, from where the capital's shops and restaurants are just a 10-minute walk away.
Closer to Miami than Nassau, Freeport is on Grand Bahama Island, northwest of New Providence. Cruise liners dock at Lucaya Harbor, only 10 minutes from Freeport, where you'll find a national park, beaches and shopping.
Cruise liners touring the Caribbean tender visitors to shore at George Town on Grand Cayman Island, where colonial buildings and gardens reign supreme. Most visitors head to the long stretch of sand at Seven Mile Beach to relax at a beach resort or go diving and fish-feeding at Stingray City. English is spoken here, and U.S. dollars are accepted.
British and French influences are evident on Dominica, and you'll be docking in the former French port of Roseau on the island's southwest coast. Water-based activities like kayaking, rainforest river tubing and beach snorkel tours by jeep are popular shore excursions here.
Just 15 miles north of Miami, the city's frenetic pace gives way to the wide, tree-lined boulevards, multimillion-dollar homes and luxury yachts sailing the Venetian waterways of Fort Lauderdale. This sophisticated city has world-class art, café-lined riverside walkways and one of the world's busiest cruise ports along with Miami.
Most ships dock near the capital city of San Juan's old town, where you can soak up the mix of Caribbean, American and Spanish cultures while following cobblestone streets, visiting the rum factory and enjoying some of the best food in the Eastern Caribbean. To head further afield, follow nature trails at El Yunque Rainforest or join a snorkel and picnic cruise.
The Puerto Rican capital is where Caribbean cool meets slick Americana, dancing to the beat of syncopated Latin rhythms and the glow of tropical sunsets. It's a colorful, diverse and culturally unique place, where hip restaurants nestle next to 15th-century Spanish forts.
The laid-back vibe and magnificent coast here provide a taste of paradise and a bit of light relief to millions each year. Perhaps the most pleasant climatic aspect of these islands is the combination of the trade winds that keep humidity low and the currents that keep waters warm.
Quieter, smaller and perhaps more beautiful than St Thomas, St John is renowned for its snorkeling. If St. John is your port, you'll be tendered ashore to the main town of Cruz Bay for shopping and dining. You may also go sailing aboard a catamaran, kayaking on Caneel Bay or hiking to Turtle Point.
Most cruise ships visiting the US Virgin Islands dock at Havensight or Crown Bay here, near the capital Charlotte Amalie. Discover the island's Dutch and Danish heritage by taking a stroll along historic laneways.
Most ships visiting this shared Dutch (St Maarten) and French (St Martin) island tie up near Phillipsburg on the Dutch side. The duty-free shopping is a hugely popular shore activity, along with relaxing on white-sand beaches and cosmopolitan multicultural dining. English is spoken and U.S. dollars are accepted on both sides of the island.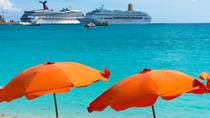 268 Reviews
While in port in Philipsburg, discover the enchanting towns, stunning beaches and local cuisine of the island of St Martin on this 4.5-hour shore excursion. ... Read more
Location: Philipsburg, St Maarten
Duration: 4 hours 30 minutes (approx.)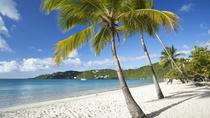 240 Reviews
When you're in port in St Thomas, enjoy its beautiful vistas, duty-free shopping and pristine beaches on this sightseeing shore excursion. Hop on a ... Read more
Location: St. Thomas, US Virgin Islands
Duration: Varies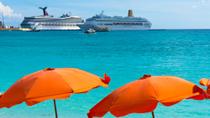 34 Reviews
When your cruise ship docks in Freeport, head to secluded Paradise Cove with this convenient round-trip transfer from the cruise terminal. Spend the morning or ... Read more
Location: Freeport, Bahamas
Duration: 3 hours 30 minutes (approx.)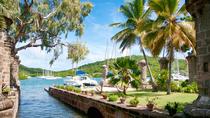 39 Reviews
While you're in port in Antigua, see some of its beauty on this island shore excursion. Travel across Antigua to Nelson's Dockyard National Park, home the ... Read more
Location: St Johns, Antigua
Duration: 3 hours 30 minutes (approx.)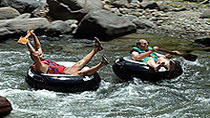 11 Reviews
Step off your cruise ship in Dominica and head out on a river tubing shore excursion. Dominica is filled with rivers and other natural features that make it ... Read more
Location: Dominica
Duration: 3 hours (approx.)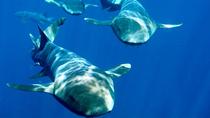 4 Reviews
Book the shark diving shore excursion for a thrilling and adrenaline-filled adventure on your cruise to Nassau! Swim in an area with Caribbean Reef Sharks and ... Read more
Location: Nassau, Bahamas
Duration: 5 hours (approx.)