Rosario Islands
Less than an hour southwest of Cartagena's port is a fragile archipelago of some 30 picture-perfect islands, wrapped in shimmering white-sand beaches, and strung like rosary beads through the deep blue Caribbean Sea. They sit atop the world's third-largest barrier reef, which has protected as Islas del Rosario National Park since 1977. Though this clearly remains a mixed-use area, the designation has helped conserve 1300 species of flora and fauna present on and around the islands.

Dozens of operators offer day trips to the Islas del Rosario, which lie between 45 and 90 minutes southwest of the city, depending on the type of boat you're on. As you cruise past Boca Chica and out into the open sea, don't miss the 18th-century Spanish fortresses of of San Rafael and San Fernando.

Many of the islands are private; others offer attractions such as the Oceanario, an open-air aquarium and marine museum dedicated more to conservation than entertainment, though rescued dolphins do perform a short show. Most tours end at one of the larger islands: Isla Grande, Isla Rosario, or Isla Caribaru. More secluded spots, such as Isla Los Pajaros, are also on offer.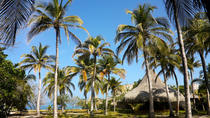 45 Reviews
Escape Cartagena for the day and take a trip to the Rosario Islands! Enjoy a 1-hour cruise from Cartagena to the Rosario Islands, a magnificent archipelago and ... Read more
Location: Cartagena, Colombia
Duration: 7 hours (approx.)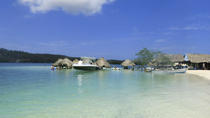 5 Reviews
Enjoy the most complete day tour in Cartagena going to different islands and beaches in Barú and Rosario Islands. Corales del Rosario National Park is ... Read more
Location: Cartagena, Colombia
Duration: 12 hours (approx.)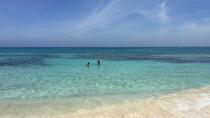 11 Reviews
Soak up the sun and sea with a relaxing day in the Rosario Islands, an idyllic Caribbean archipelago off the coast of Cartagena. With this tour, you'll enjoy ... Read more
Location: Cartagena, Colombia
Duration: 7 hours (approx.)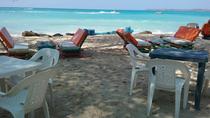 3 Reviews
Let`s go to Playa Blanca. Enjoy the ride in a comfortable air conditioned minivan. On the 1-hour trip from Cartagena, you will see more of the local life in ... Read more
Location: Cartagena, Colombia
Duration: Flexible
This snorkeling day trip adventure takes place in one of the few places in the world that offers a spectacle of beauty, diversity and shapes, as wonderful as ... Read more
Location: Cartagena, Colombia
Duration: 7 hours (approx.)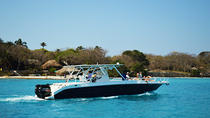 1 Review
Escape Cartagena for the day and take a sightseeing cruise to Rosario Islands which is a group of private islands off the coast of Cartagena. Spend time ... Read more
Location: Cartagena, Colombia
Duration: 6 hours (approx.)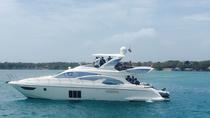 Take your private 40 feet yacht and get ready for a lifetime experience around the 27 scattered islands at Rosario's and Baru. Enjoy with delight the ... Read more
Location: Cartagena, Colombia
Duration: 6 hours (approx.)