Situated in southern Bohemia, the small city of Český Krumlov was added to the list of UNESCO World Heritage Sites in 2002. During the communist era, the city fell into disrepair, but since the Velvet Revolution it has been returned to its former glory. Today, it is a major tourist attraction for Czechs, Germans, Austrians, and others. The following suggestions should help you tap into to this splendid city.
Castle complex
The Český Krumlov State Castle and Chateau complex is easily the most-visited site in the city. Apart from the architecture, atmospheric restaurants, drink stands, gardens, theaters, and souvenir shops, the famous Bear Moat contains live bears, which can be observed from a bridge that crosses above it.

Running the Vlatava
The river that connects Český Krumlov with Prague speeds up considerably both in and out of town during the summer months, making this particular stretch ideal for tubing, rafting, and boating. Guided tours and pub crawls emanate from several sites along the way.
Museums and monuments
Visitors interested regional history and culture can take their pick of several museums and monuments in the city. Guided tours at a local graphite mine expose visitors to the history of mining in the area, as well as the conditions under which miners have labored over the years. The Regional Museum houses a ceramic scale model of Český Krumlov as it existed at the turn of the 19th century, as well as fossils, archaeological artifacts, and Bohemian antiques. Egon Schiele Centrum Museum is solely dedicated to work of the titular Schiele (a contemporary of Gustav Klimt), who resided in the city briefly before being driven out by residents who considered his work immoral.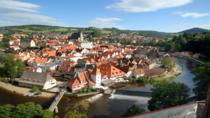 676 Reviews
If you love castles, you won't want to miss Cesky Krumlov's World Heritage-listed castle! Known as 'the Pearl of the Renaissance', the State Castle of Cesky ... Read more
Location: Prague, Czech Republic
Duration: 10 hours (approx.)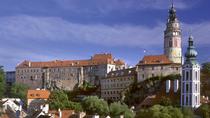 14 Reviews
Discover one of the most charming historic destinations in the Czech Republic on this 10-hour tour to Český Krumlov from Prague. Stroll through the UNESCO ... Read more
Location: Prague, Czech Republic
Duration: 10 hours (approx.)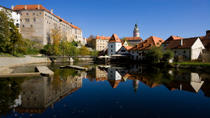 4 Reviews
Get to know the postcard-perfect Czech town of Cesky Krumlov on an overnight trip from Prague. Your trip includes guided walking tours around Cesky Krumlov's ... Read more
Location: Prague, Czech Republic
Duration: 2 days (approx.)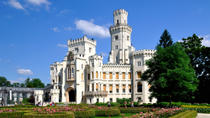 5 Reviews
Experience the treasures of South Bohemia on this 2-day tour from Prague. On your first day, your guide will take you to Ceské Budějovice, the region's ... Read more
Location: Prague, Czech Republic
Duration: 2 days (approx.)