Reims Tours
Reims was founded in 80 BC by a Gallic tribe called the Remi, from which the town gets its name. The Remi allied themselves with Julius Caesar during his conquest of Gaul, and that association made the town a favored municipality in the Empire.
Over the centuries, Reims has found itself on the receiving end of aggression, from the likes of regional invaders such as the Vandals and the Huns during the fifth century on up to the Germans during the Franco-Prussian War, WWI and WWII. Despite the ensuing damage, Reims has always rebuilt, and today, the city is a bustling center of commerce and culture.
Along with Epernay, Reims has enjoyed a booming champagne industry for many years. Chalk caves, dug out by Romans seeking building material, wind in labyrinthian tunnels beneath the city. It is in these caves that the major champagne houses store millions of bottles of bubbly.
Practical Info
Points of interest include: the old-city squares of the Place Royale (dominated by a statue of Louis XV) and the Place Cardinal-Luçon, famous for its equestrian statue of Joan D'Arc, as well as the Place Drouet d'Erlon, adorned with fountains and statuary and ringed by restaurants and bars. Ancient constructs include the Porte de Mars (Mars' Gate), an alleged Remi tribute to Augustus and the sarcophagus of the Roman consul Jovinus, found in the abbey of Saint-Remi. Like Paris, Reims has its own church of Our Lady; Notre Dame was once where the kings of France received their crown, and it was named a UNESCO World Heritage site in 1991.
As Reims is a university town, students tend to dominate the nightlife. Of note is the place Drouet-d'Erlon, a square where you will find the best clubs in the city. Bars stay open rather late, and they range in type from elbow-to-elbow noisefests (the Glue Pot) to more intimate pubs (such as L'Escalier) where the volume is low enough to mingle with the locals.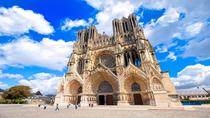 420 Reviews
This tour will take you to the heart of the Champagne country to discover the history and secrets of "The King of Wines". You'll visit a world-renowned ... Read more
Location: Paris, France
Duration: 10 hours 30 minutes (approx.)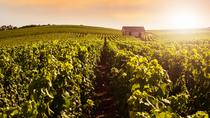 825 Reviews
Enjoy a glass of bubbly as you spend a day in the famous region of Champagne on a day trip from Paris. With its magnificent vineyards, impressive heritage and ... Read more
Location: Paris, France
Duration: 10 hours 30 minutes (approx.)
77 Reviews
Embark on a Champagne pilgrimage on a full-day trip from Paris! With an expert guide, head to the heart of the Champagne region and tour the glamorous Moet and ... Read more
Location: Paris, France
Duration: 10 hours (approx.)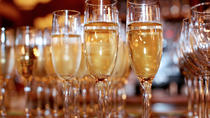 79 Reviews
Make the most of your time in Reims and discover one of the region's finest Champagne houses on this 1-hour Mumm Champagne cellar tour. Located in the heart of ... Read more
Location: Reims, France
Duration: 75 minutes (approx.)