No reviews, be the first!
Address:

Eleftherios Venizelos Square, Chania, Crete, Greece

Hours:

Closed to public
Venetian Lighthouse Tours
Perching on the end of the breakwater, the Venetian Lighthouse is the most striking of all the buildings around Chania's imperious Venetian Harbour, and was constructed around 1570 when the town was under control of the Republic of Venice. It is one of the oldest lighthouses in the world and its spindly, butter-colored stone tower stretches up 69 feet (21 m) high. Last renovated in 2006, the tower was modified several times in the intervening centuries, gaining the mini-minaret above its light in 1839, when Ottoman Turks occupied Crete.
Although it's no longer operational and closed to the public, the lighthouse is the landmark building in Chania and has an unusual three-part construction; its base has eight sides and its middle section has 16, while its upper reaches are circular. There's an enjoyable stroll along the walls of the Venetian Harbour to admire its spectacular architecture and this is a romantic spot to linger when it's illuminated after dark; better still, enjoy the view over an ouzo in one of Chania's many harbour-side tavernas.
Practical Info
It's slightly less than a mile (1.5 km) to walk to the lighthouse around the harbour walls. Chania can be reached by daily ferry from Piraeus in Athens, and by plane via Chania International Airport, which is 9 miles (14 km) from the town center.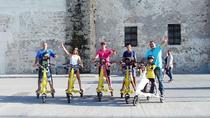 2 Reviews
This 75-minute trikke tour of Chania's Old Town will give you the unique opportunity to tour around the narrow streets of the Old Town and the Venetian Harbor. ... Read more
Location: Chania, Greece
Duration: 75 minutes (approx.)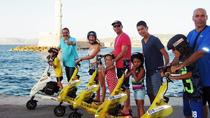 Discover the hidden treasures of Chania with a Trikke tour! Explore the neighborhoods of the Old Town and the Venetian Harbor riding an electric Trikke!!
Location: Chania, Greece
Duration: 40 minutes (approx.)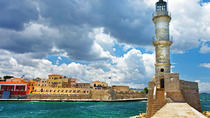 Explore the old venetian town of Chania ,taste the traditional cuisine in the small taverns and small cafes the old harbor ,feel the charm of the ... Read more
Location: Rethimno, Greece
Duration: 12 hours (approx.)