Composed of four wards, the First through Fourth, Uptown is Charlotte's easily walkable city center.  Home to the convention center and the terminus of the city's Lynx light rail, surrounded by skyscrapers, and full of cultural attractions, this is the most popular home base for business and first-time travelers to Charlotte.
Set next door to one another on South Tryon Street are the city's two main art museums, the Mint Museum of Art and the Bechtler Museum of Modern Art. Named for its former status as a branch of the U.S. Mint, the Mint focuses largely on American and European art from the 18th century on, but also features craft and design galleries of (largely) North Carolina-produced glass, pottery, jewelry and more. The Bechtler, opened in 2010 in a cutting-edge building designed by a Swiss architect, is Charlotte's splashy entrance into the global, contemporary art world, fitting for a city booming with financial success. 
Across the street, the Harvey B. Gantt Center for African-American Arts & Culture is a unique and important art museum in a city that's very much divided along racial lines, providing well-rounded insight into the black communities of both Charlotte and the South as a whole. If history is your passion, the Levine Museum of the New South (about eight blocks east of the Gantt Center) will acquaint you with the past, present and future of this region. While it features rotating exhibits about the general evolution of the post-Civil War South, its permanent exhibit, Cotton Fields to Skyscrapers, focuses specifically on the growth of Charlotte. 
If you want to pick up the pace, head about nine blocks southeast of the Levine Museum and take a spin around the NASCAR Hall of Fame, which features vintage stock cars and a movie about the history of racing, shown in a state-of-the-art theater with surround sound.  
Families with small children will appreciate the interactive science and technology exhibits at Discovery Place (which includes an IMAX Dome theater) and the story hours at the crayon-colorful ImaginOn, a library and theater complex for kids. To burn off some energy outdoors, be sure to visit the playground at Fourth Ward Park. 
Two blocks east of the Convention Center, the EpiCentre Mall provides options for every meal of the day, as well as coffee, frozen yogurt and cocktails, along with a state-of-the-art movie theater (where you can have dinner at your seat), a bowling alley, and an open-air pavilion for live concerts.  
If it's an especially nice day, consider taking breakfast or lunch to go and enjoying it at one of the outdoor dining tables in Romare Bearden Park, which was named for a famous local artist and opened in August 2013.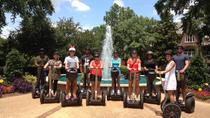 82 Reviews
Buzz through Charlotte's hopping Uptown neighborhood on this Segway tour of North Carolina's biggest city! Follow your local guide as you glide along the ... Read more
Location: Charlotte, North Carolina
Duration: 1.5hrs - 2hrs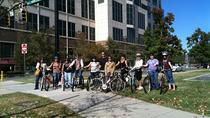 6 Reviews
Charlotte, North Carolina's largest city, is a great place to explore by bike. On this morning or evening tour, pedal through sprawling parks and down ... Read more
Location: Charlotte, North Carolina
Duration: 90 minutes (approx.)