Emei Shan
At 3,117 meters (10,226 feet) tall, Mount Emei is the highest of China's four sacred mountains of Buddhism. Buddhist monks have made pilgrimages to the temples and monasteries of Emei Shan for nearly 1,800 years. As a nod to the religious and cultural importance of Emei Shan, in 1996 UNESCO opted to name the entire mountain as one of its World Heritage sites. Though a cable car now carries most visitors to the lofty summit, those wanting to commune with the mountain can trek the same pilgrim trails as those from centuries past. For a rewarding cultural experience it's also possible to punctuate the journey with an overnight stay in a monastery. While a two-day trek to the summit to catch the Sichuan sunset is a favorite activity among local trekkers, all visitors must walk through the forests of wild monkeys who have become accustomed to human handouts. Consider bringing a stick.

Located 145 kilometers (90 miles) southwest of Chengdu, Emei Shan is best visited during the summer. Bitter cold and deep snow can render the summit inaccessible during winter, and the rudimentary heating capabilities of the monasteries can make for an uncomfortable evening. Another good time to visit is in early autumn to peruse the myriad stone carvings along the trails and stave off the cool mists by hunkering down with a warm cup of green tea at any of the temple teahouses.

When venturing from Chengdu to Emei Shan it's best to combine the journey with a trip to the nearby Leshan Buddha. Humbling in its enormity, the Leshan Buddha is officially regarded as the largest stone carved Buddha found anywhere in the world. In the 8th century, a pious monk named Haitong and his dedicated disciples devoted nearly 90 years to completing the construction on this 71 meter (233 foot) high deity, which is carved directly into the face of the cliff. The eyebrows alone are 5.5 meters (18 feet) long. Facing Mount Emei and sharing its World Heritage status, the Leshan Buddha was constructed in the hopes that Buddha would calm the waters of the three rivers which merge at the foot of the cliff face. In a fortuitous twist of fate, it's said that all of the excess rubble from the excavation altered the river currents and pacified the rivers to calmer levels, ultimately achieving the intended goal.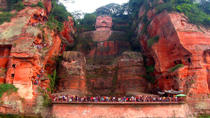 7 Reviews
Spend two days visiting two different UNESCO World Heritage sites in Leshan on this all-inclusive tour! Your private guide will lead you on an exploration to ... Read more
Location: Chengdu, China
Duration: 2 days, 1 night