1 Review
Address:

Huanglong National Park, Sichuan, China

Hours:

The park is open daily from 9 a.m. until 4:30 p.m.

Admission:

CNY 200 in peak season (April 1 - November 15) CNY 60 in low season (November 16 - March 31)
Huanglong National Park Tours
Brilliant turquoise pools, quiet rivers, cascading waterfalls and mystical yellow rocks are just part of what makes Huanglong National Park, a UNESO World Heritage site, worth a visit.
Travelers love wandering the scenic passes that wind through incredible blue waters and the popular cable car offers impressive views of the landscape down below. Easy walking trails stretch over calcified rock and loop through dense forest, offering an up-close look at this unique
and fragile ecosystem. Visitors warn that while the climb is easy, the air is thinner, so be prepared for a shift in altitude—and perhaps a little light-headedness that follows.
Practical Info
The park is open daily from 9 a.m. until 4:30 p.m. It is located 150 kilomteres northwest of Chengdu and 65 kilometers west of Songpan. Travelers agree it's best to visit this park in the fall when water levels are at their peak and rivers and waterfalls are most impressive.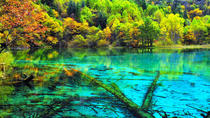 Explore Jiuzhaigou National Park and Huanglong on this 3 day private tour. Jiuzhaigou and its neighbor Huanglong will grant you a memorable experience of ... Read more
Location: Chengdu, China
Duration: 3 days (approx.)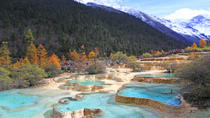 Immerse in the exceptional natural beauty of two UNESCO World Heritage-listed national parks — Huanglong Valley and Jiuzhaigou Valley — on this 2-day ... Read more
Location: Chengdu, China
Duration: 2 days (approx.)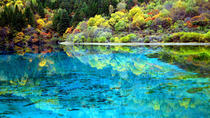 This private day tour will take you to explore the Jiuzhai Valley in a whole day. You will have enough time to visit tens of tourist attractions by taking a ... Read more
Location: Jiuzhaigou, China
Duration: 8 hours (approx.)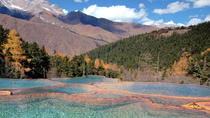 1 Review
See remote areas of Sichuan province and visit two UNESCO World Heritage–listed national parks on this 4-day private tour from Chengdu. With a private guide, ... Read more
Location: Chengdu, China
Duration: 4 days (approx.)