Wangjiang Tower Park & Tomb of Wang Jian Tours
An oasis of calm in an otherwise frenetic metropolis, Wangjiang Tower Park sits peacefully on the southern bank of Chengdu's Jinjiang River. Constructed in 1889 during the Qing Dynasty, the builder who commissioned the park originally attributed the 128 foot (39 meter) tall, 4-story tower at the center of the park to his quest for attaining feng shui in the park's design. It was later revealed, however, that the tower was an ode to the female poet, Xue Tao, who lived circa 800 AD and is regarded as one of the top poets of the Tang Dynasty.

Those looking for an image of Xue Tao while inside the park can find a white marble statue of the poet serenely set among a grove of bamboo plants. In a nod to Xue Tao's love of bamboo, Wangjiang Park is covered in over 150 different species of bamboo which give the park a natural feel amid the urban chaos of the city outside. A popular activity among locals is enjoying a warm cup of tea served from the park's teahouse where the water used in the drinks is drawn from the Xue Tao well, located within the park grounds.

Though similar in name, Wangjiang Tower Park is not to be confused with the nearby tomb of Wang Jian. The final resting site of an emperor of the short-lived Shu kingdom, a 1942 excavation of the site revealed that the mounds of treasure Wang Jiang was buried with had been stolen—a heist which has left his coffin stoic and lonely in the center of a massive chamber. Held up by 12 stone soldiers who all bear different expressions, the tomb is also adorned in carvings of 24 different musicians seen playing a variety of traditional folk instruments. While the tomb itself is set in the middle of three large chambers, a life-size statue of Wang Jian—believed to be the only one of its kind—can be found standing in the rear of the three chambers. Slightly haunting and steeped in history, the complex is the only known above-ground burial site of an imperial Chinese ruler.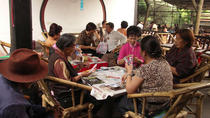 Embark on a guided day tour and experience the traditional Chengdu lifestyle which includes a visit to the Giant Panda Breeding and Research Center , ... Read more
Location: Chengdu, China
Duration: 10 hours (approx.)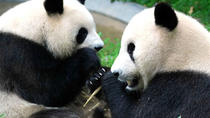 Chengdu's charm goes beyond the cute creatures at the Giant Panda Breeding Center; It also emanates from those fascination parks and hidden passageways. From ... Read more
Location: Chengdu, China
Duration: 8 hours (approx.)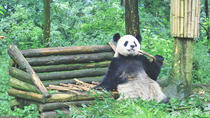 Chengdu is home to giant pandas. The best place to visit these lovely creatures is Giant Panda Breeding and Research Base of Chengdu where more than 80 pandas ... Read more
Location: Chengdu, China
Duration: 10 hours (approx.)