Though Sichuan is famously known for its spicy and flavorful cuisine, when it comes to arts and culture it's the opera that usually ends up stealing the show. Just as visitors must spend one day in Chengdu seeing the giant pandas, so too must a night be devoted to sitting down and laughing your way through a Sichuan opera.

If the idea of laughing at an operas doesn't seem to work together then you might be surprised to find out that Sichuan opera—a specific and ancient form of artistic expression unlike any other in the world—is frequently based upon Sichuan folktales which are far more comedy than tragedy. Entertaining and thoroughly captivating, a Sichuan opera or cultural show will frequently feature a full array of performances which involve singing, drumming, acrobatics and mystifying costume changes.

Central to many Sichuan cultural shows are the infamous "face-changing" characters. Through a series of thinly-painted masks stacked masterfully on their face performers are able to scratch through, rub and discard their masks with a simple flick of the wrist—thereby creating the mystical allure of changing their appearance without ever leaving the stage. The art of face-changing dates back thousands of years and is one of the central highlights of any dramatic Sichuan performance.

Often set to intoxicating rhythms, the operas involve music drawn from five separate and ancient musical styles. An art form unto itself, the music of Sichuan opera features percussive beats and high pitched melodies which collectively contribute to the cultural atmosphere. With numerous entertainment venues located in Chengdu, most cultural shows can involve everything from opera singing to stick puppet and hand shadow shows interspersed into the overall performance.

There are over 2,000 different folktales which have been made into Sichuan, so the good news is should you feel the need to go back for more, there will always be a new program to keep you smiling, laughing and thoroughly satisfied.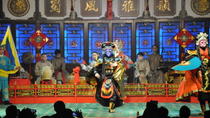 24 Reviews
Swap sopranos for fire-breathing acrobats at the Sichuan Opera, a one-of-a-kind cultural performance at Chengdu's Shufeng Yayun Teahouse. You'll be glued to ... Read more
Location: Chengdu, China
Duration: 90 minutes (approx.)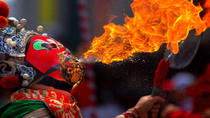 10 Reviews
On this fabulous night out in Chengdu, watch the incredible Sichuan Opera and enjoy a hot pot dinner. Discover Sichuan customs as you join in the celebration ... Read more
Location: Chengdu, China
Duration: 5 hours (approx.)