Chennai (formerly known as Madras) serves as the capital of Tamil Nadu and was the location of the first British settlement in India in 1639. With such a long colonial history, the city is a hotbed of religious monuments, both Hindu and Christian.

Sao Thome Cathedral
Built during the sixteenth century, Sao Thome Cathedral claims to be the final resting place of Saint Thomas, who came to India in 52 AD and was believed to have been martyred on nearby St Thomas Mount. The original structure was erected by the Portuguese during the sixteenth century, but the neo-Gothic building as it stands today was rebuilt by the British during the late nineteenth century.

St Mary's Church
St Mary's Church, located on the grounds of Fort St George, has the honor of being Asia's oldest remaining Anglican church and the oldest masonry building within the seventeenth century fortress. While the building itself isn't as impressive as Sao Thome Cathedral, the small cemetery and its collection of eighteenth century tombstones make for a relaxing stroll. Keep an eye out for the gravestone of Elizabeth Baker, thought to be the oldest British tombstone in India.

Kapaleeshwar Temple
Within the city of Chennai, Kapaleeshwar Temple is the most worthwhile to visit, largely due to its classical Dravidian architectural style. The temple, dedicated to Shiva, is topped with a large pyramidal structure characteristic of South Indian temples, covered in intricate and brightly colored statues of gods and other characters from legend and folklore.

Kanchipuram
Kanchipuram, known as the Golden City of 1,000 Temples, has become one of India's most important religious sites and a worthwhile day trip from Chennai. As the oldest capital of the Pallava Dynasty, Kanchipuram's complex of ancient temples span a wide range of dates and dynasties, making it an interesting place to see how Dravidian architecture evolved over time.

Mahabalipuram
One of India's oldest temples can be found along the Bay of Bengal, about two hours from Chennai. The eighth century Mahabalipuram complex consists of several ruins of stone temples, many dedicated to either Shiva or Vishnu.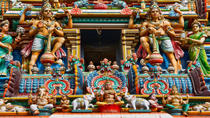 7 Reviews
On this private sightseeing tour of Chennai, the capital city of Tamil Nadu, discover the city's architectural diversity with visits to popular landmarks ... Read more
Location: Chennai, India
Duration: 6 hours (approx.)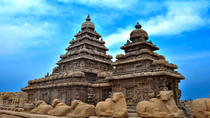 12 Reviews
On this private tour from Chennai, journey back in time to discover traditional South Indian culture through its artistic, architectural and religious ... Read more
Location: Chennai, India
Duration: 8 hours (approx.)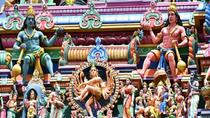 1 Review
This cultural city has many attractive temple's within it, especially when it comes to sacred & religious sites, these below list are the "Top 5" ... Read more
Location: Chennai, India
Duration: 5 hours (approx.)
One of the most favoured cultural destinations in India, Chennai is a dream holiday destination. Through this morning tour, you get to the heart of Chennai's ... Read more
Location: Chennai, India
Duration: 3 to 4 hrs
If you are a native of Chennai or a tourist in Chennai and plan a visit to the Taj Mahal, we provide you the tour of Taj Mahal with the visit of other ... Read more
Location: Chennai, India
Duration: 2 days (approx.)
Chennai is a culturally rich city located in the Tamil Nadu region of Southeast India. On this private day tour, you will visit several religious sites ... Read more
Location: Chennai, India
Duration: 7 to 8 hrs
On your private tour you will discover the unique culture of Chennai. Experience a colorful prayer ceremony at the historical healing temple of Marundeeswarar, ... Read more
Location: Chennai, India
Duration: 4 to 5 hrs
Your private tour will follow the footsteps of St. Thomas, one of the 12 apostles of Jesus. You will visit the Basilica of San Thome as well as St ... Read more
Location: Chennai, India
Duration: 6 hours (approx.)
Get a unique perspective in Chennai by walking around of this below historically famous attractions which has beautiful surroundings of nature Theosophical ... Read more
Location: Chennai, India
Duration: 2 to 5 hrs
Discover the home of the teenage boy who captured our hearts with his epic journey in the award-winning novel and film "Life of Pi". The highlights of ... Read more
Location: Puducherry, India
Duration: 2 to 5 hrs