Chiang Mai, Thailand's northern temple-filled city, is popular with travelers for the wealth of experiences available there. There's plenty to do in the city, but some of the area's best attractions involve half or full day trips from Chiang Mai.

Chiang Rai and the Golden Triangle
One of the most popular day trips from Chiang Mai is to the Chiang Rai region and the Golden Triangle. From here, you can see the point where Thailand, Laos and Myanmar meet. The scenery on the drive there is beautiful, and you'll can make stops at some local villages in the area as well.

Wat Phra That Doi Suthep
Just outside of Chiang Mai, perched on the peak of Doi Suthep mountain, sits Wat Phra That Doi Suthep, the city's most famous Buddhist temple. Once you climb the 306 steps up the mountain to the temple, you'll be rewarded with panoramic views of the city. You can see Doi Suthep temple on a half-day trip, and it's usually better in the morning before it gets too hot.

Lamphun
Just 16 miles (26 kilometers) south of Chiang Mai sits Lamphun, Thailand's oldest continuously occupied city. The city is famous for housing one of the most beautiful temples in all of Thailand—the temple Doi Suthep was modeled after—Wat Phra That Hariphunchai.

Lampang
If you're interested in learning more about Burmese Buddhism, then take a day trip to Lampang to tour the city's many Burmese-style temples. Lampang is also famous for its horse-drawn carriages and the National Elephant Institute.

Tha Thon Hill Tribes
Northern Thailand is home to many indigenous hill tribes, each with its own distinct culture. If you're in Chiang Mai, you should try to leave at least one day for a trek to visit a few of these tribes. One of the most famous, the Karen Tribe, are known for their elongated necks.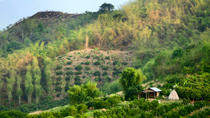 69 Reviews
A chance to visit the famous Golden Triangle where the borders of Thailand, Burma and Laos meet! An early morning drive through beautiful scenery, with a stop ... Read more
Location: Chiang Mai, Thailand
Duration: 12 hours (approx.)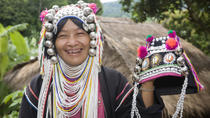 4 Reviews
Start your full-day privately guided excursion to Mae Chan to visit the Yao and the Akha hilltribe villages from Chiang Rai. Your private guide offers you ... Read more
Location: Chiang Rai, Thailand
Duration: 8 hours (approx.)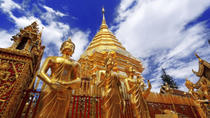 18 Reviews
An inspiring trip to the mountains! Relax while you are driven up to the slopes of Doi Suthep Peak to visit a Meo hilltribe and observe their simple way of ... Read more
Location: Chiang Mai, Thailand
Duration: 4 hours (approx.)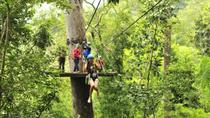 4 Reviews
Take an adventurous bike and zipline private tour through rural Chiang Mai, one of Thailand's largest cities! Spend the morning cycling through the ... Read more
Location: Chiang Mai, Thailand
Duration: 9-10 hours
The Mae Hon Son Loop is a comprehensive way to discover one of Thailand's most authentic provinces. For those wanting to see the real Thailand and wanting to ... Read more
Location: Chiang Mai, Thailand
Duration: 3 days (approx.)
This excursion will take you to the most famous Golden Triangle at the Mekong river – the border between Thailand, Myanmar and Laos. You will discover the ... Read more
Location: Chiang Mai, Thailand
Duration: 3 days (approx.)
The "Sukhothai Loop" will not only take you to see ancient historical of Thailand, unseen Phayao and Nan, Sirikit dam, Sukhothai (the world heritage historical ... Read more
Location: Chiang Mai, Thailand
Duration: 3 days (approx.)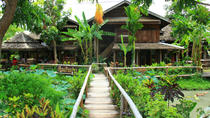 3 Reviews
Get to know Ban Mae Kampong, a lovely mountain village north of Chiang Mai that specializes in fermented tea production. This full-day private tour, led by an ... Read more
Location: Chiang Mai, Thailand
Duration: 12 hours (approx.)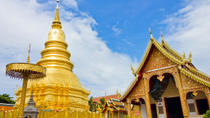 5 Reviews
Travel by local train to Lamphun, the ancient capital of the Hariphunchai Kingdom, on this comprehensive private tour from Chiang Mai. During your in-depth ... Read more
Location: Chiang Mai, Thailand
Duration: 8 hours 30 minutes (approx.)