Spirituality is at the heart of northern Thai culture and the people of Chiang Rai take pride in the city's ornate Buddhist temples. With more than 50 wats in Chiang Rai seeing them all is quite the undertaking, but these are the highlights.
Wat Phra Keow
As the original home of the Emerald Buddha, Wat Phra Keow is one of the Chiang Rai's most sacred temples. Though the famed statue now resides in Bangkok, Wat Phra Keow has an impressive replica carved from jade on display with dozens of other Buddha images in an air-conditioned museum. The temple's lush grounds inspire meditation and the golden stupa dates back to the 14th century.
Wat Phra Singh
Built in 1385, Wat Phra Singh is one of the oldest temples in Chiang Rai. The wooden buildings with ornate carvings exemplify Lanna (north Thai) architecture and the main building houses a replica of the Phra Singh Buddha statue from Chiang Mai.
Wat Phra That Doi Tong
Make the trek to this hilltop temple to enjoy its peaceful grounds and views of the Mae Kok River. Its golden stupa dates back to the 14th century, though local lore indicates this site has been a holy place since the 9th century.
Wat Rong Khun
If you're starting to think all temples look alike head to Chiang Rai's Wat Rong Khun (White Temple) for something completely different. This pure white temple is a bizarre, beautiful fusion of traditional and modern imagery with murals and carvings featuring Buddha, elephants, and the afterlife alongside Spiderman, spaceships, and George W Bush. The temple is the creation of Thai artist Chaloemchai Khositphiphat who began work in 1996 and does not anticipate finishing within his lifetime.
Please Note: Wat Rong Khun has been partially damaged due to the May 5, 2014 earthquake, but is open and undergoing renovation.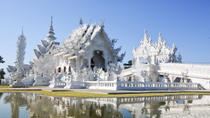 1 Review
Discover the charm of northern Thailand and the notorious Golden Triangle – the meeting point of Laos, Thailand and Myanmar (Burma) – on this three-day tour ... Read more
Location: Chiang Mai, Thailand
Duration: 3 days, 2 nights