No reviews, be the first!
Address:

Montebello Lakes National Park, Chiapas, Mexico

Hours:

Daily from 8 a.m. to 5 p.m.

Admission:

About 10 pesos
Montebello Lakes National Park Tours
With its dazzling lakes bordered by dense pine forests and a seemingly endless network of hiking trails, the Montebello Lakes National Park is an idyllic spot to explore, sprawling along the Guatemalan border. Now a UNESCO Biosphere Reserve, Montebello was Chiapas' first national park and boasts an impressive 59 lakes, each naturally formed cenotes (sinkholes) caused by erosion of the limestone terrain. Notable highlights include Tziscao Lake, the largest and deepest lake, the Emerald Lagoons, the Enchanted Lake and the Tinted Lake, celebrated for their startling multi-colored hues, the effect of minerals in the water catching the sunlight.
Hiking is the best way to soak up the magnificent scenery and wildlife of the Montebello Lakes, with cabins dotted around the park for campers, but there are also plenty of other outdoor activities to be enjoyed. Horseback riding and canoeing tours are increasingly popular, but swimming, rafting and even scuba diving is possible in the lakes.
Practical Info
The Montebello Lakes National Park is located 61 kilometers east of Comitán in southeastern Chiapas, close by the Guatemalan border. The park is open daily from 8 a.m. to 5 p.m., and admission is about 10 pesos.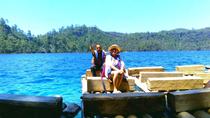 2 Reviews
This tour combines two of the best natural wonders of Chiapas into one day trip. Depart from San Cristòbal de las Casas to the magnificent El Chiflón ... Read more
Location: San Cristóbal de las Casas, Mexico
Duration: 12 hours (approx.)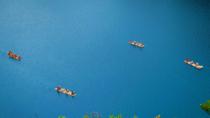 1 Review
Take this tour where you can enjoy the different shades of the Lakes and the waterfall of Chiflon, magical places.!
Location: San Cristóbal de las Casas, Mexico
Duration: 7 hours (approx.)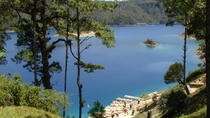 Visit the Montebello lake. There are 50 attached lakes surrounded by lush vegetation, where we will be able to take beautiful pictures. Stroll around the ... Read more
Location: San Cristóbal de las Casas, Mexico
Duration: 6 hours 18 minutes (approx.)