Chiapas RECOMMENDATIONS See all
Exploring the Lacandon Jungle
By Viator, November 2014
No reviews, be the first!
A largely unchartered wilderness sprawling along the Guatemalan border and southeastern Chiapas, the Lacandon Jungle is Mexico's largest rainforest, stretching over 4,357 hectares and home to the Lacandon indigenous tribe. The rain forest is renowned for its incredible variety of plant and animal life, with its dense jungle, lakes and waterfalls harboring everything from monkeys to jaguar, and bird species including Red Macaw, Tucan Real, Great Curassow and Wild Turkey. Hiking in the Montes Azules (Blue Mountains) natural reserve, cruising along the Usumacinta and Lacanja rivers, visiting the dramatic Las Nubes Waterfall and staying at the Las Guacamayas eco lodge are all popular activities for visitors, but due to the vast network of unmarked trails, exploring is best done with a local guide.
Another highlight of the Lacandon Jungle is its impressive Mayan ruins and the region's top attraction is the Yaxchilan archaeological site, located on the Usumacinta River by the Guatemalan border. The vast ruins are reachable only by boat and winding through the jungle makes a dramatic start to the tour, with stairs leading up from the riverbank to the city entrance. Hidden away in the rainforest not far from Yaxchilan is Bonampak, a small Mayan settlement that is none-the-less renowned among archeologists for its remarkable murals - a colorful series of paintings that depict royal ceremonies, court rituals and even the rare practice of human sacrifice.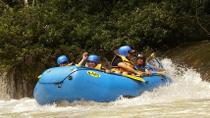 Spend the day exploring the Lacandon Jungle on this rafting and trekking tour from Palenque. Enjoy the serenity of the Lacanjá River as you float along ... Read more
Location: Palenque, Mexico
Duration: 13 hours (approx.)