When visiting Chicago, one of the best ways to explore the city is by boat on the Chicago River and Lake Michigan. Seeing the city by cruise allows you to enjoy a unique vantage point and many cruises often focus in on an interesting topic for a more specialized look at the Windy City.

A Lake Michigan and Chicago River Architecture Cruise by Speedboat is one example of a themed cruise. Along the Chicago River reside a number of inspiring skyscrapers, iconic attractions and notable buildings constructed in a variety of architectural styles. Some of the buildings you'll see and learn about along the way include the Sears Tower, the Tribune Tower, John Hancock Center, IBM Building and Wrigley Building, to name a few. After the leisurely boat ride you'll get your adrenaline pumping with an optional fast-paced speedboat journey down Lake Michigan.

Another option for those interested in exploring the city via the Chicago River is a Chicago City Tour and Chicago River Cruise. This gives you the ability to explore the destination on both land and sea, as you begin the tour in a coach bus and end on boat. Begin your day in the city's South Side seeing attractions like Grant Park, the Shedd Aquarium, the Loop, Jackson Park, and Soldier Field, as well as some of Chicago's most lively neighborhoods. From there, a Chicago River cruise allows you to take in the city skyline in a relaxing manner.

To see the sights via Lake Michigan, a Lake Michigan Sightseeing Cruise awards the opportunity to sip cocktails while taking in attractions like the Trump Tower, Sears Tower, Grant Park, Buckingham Fountain, John Hancock Center and more. Make sure to bring your camera to snap photos of the beautiful Chicago cityscape.

And don't forget about the numerous lunch, brunch and dinner cruises available on Lake Michigan, which provides a scenic and delicious way to explore the Windy City while enjoying live entertainment.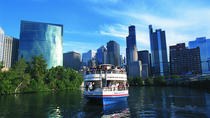 1884 Reviews
Experience one of the world's most beautiful cities on a 75-minute cruise on the historic Chicago River. On this architecture cruise, head down the main branch ... Read more
Location: Chicago, Illinois
Duration: 75 minutes (approx.)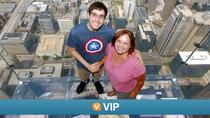 76 Reviews
See classic Chicago sights with this Viator VIP package that includes early entry to the Skydeck in Willis (formerly Sears) Tower where you'll be greeted and ... Read more
Location: Chicago, Illinois
Duration: 6 hours (approx.)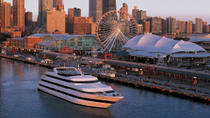 37 Reviews
Expect the exceptional on this 2.5-3 hour premier Chicago dinner cruise experience. Newly renovated, this luxury vessel features a newly furnished rooftop ... Read more
Location: Chicago, Illinois
Duration: 2.5 to 3 hours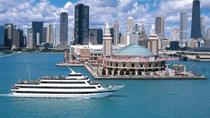 71 Reviews
Celebrate a night out in Chicago with dinner, dancing and sightseeing aboard a three-hour luxury cruise on Lake Michigan. Glimpse top Chicago attractions like ... Read more
Location: Chicago, Illinois
Duration: 3 hours (approx.)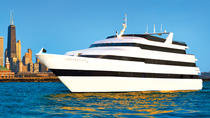 12 Reviews
Welcome aboard Chicago's largest luxury yacht at Navy Pier! Tantalize your taste buds and discover Chicago's wonderful city skyline on this 2-hour lunch ... Read more
Location: Chicago, Illinois
Duration: 2 hours (approx.)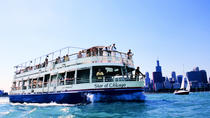 61 Reviews
Admire all of Chicago's fabulous lakefront sights and attractions on this 40-minute Lake Michigan boat tour. Cruise along Lake Michigan and take in amazing ... Read more
Location: Chicago, Illinois
Duration: 40 minutes (approx.)
Sailing Chicago's beautiful lakefront offers an experience not to be missed and views of the skyline that can't be beat. Kick back and let our experienced crew ... Read more
Location: Chicago, Illinois
Duration: 2 hours (approx.)
Sailing Chicago's beautiful lakefront offers an experience not to be missed and views of the skyline that can't be beat. Kick back and let our experienced crew ... Read more
Location: Chicago, Illinois
Duration: 2 hours (approx.)
Sailing Chicago's beautiful lakefront offers an experience not to be missed and views of the skyline that can't be beat. Kick back and let our experienced crew ... Read more
Location: Chicago, Illinois
Duration: 2 hours (approx.)