163 Reviews
Address:

Main Wharf, Akaroa 7520, New Zealand

Hours:

Open daily

Admission:

Free
Meaning 'Long Harbor,' Akaroa is a port town with a decidedly French flavor, as descendants of the town's original French settlers still live here. Streets have French names, and French-inspired restaurants and cafés line the harbor.
The big draw here isn't the French ambiance however. Most people come to Akaroa to swim with dolphins, see seals, go snorkeling or take a penguin-viewing cruise on the harbor.
In case you haven't already guessed, Akaroa is all about getting out on the water and having an eco-wildlife encounter.
Book a harbor cruise, organize a dolphin swim or arrange an eco tour through the visitor information center. And after an exhilarating day out in Akaroa, take the opportunity to relax with some fine French food and wine at a local restaurant.
Practical Info
Akaroa is 75 kilometers (46 miles) southeast of Christchurch on the Banks Peninsula, a spectacularly beautiful harbor-incised volcanic formation.
Shuttles run from Christchurch daily, and Akaroa tours from Christchurch are easy to arrange.
If you're driving south from Christchurch, follow the scenic Highway 75 across the peninsula to Akaroa.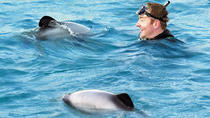 25 Reviews
Make a date with the worlds smallest, rarest and friendliest dolphins only on Akaroa Harbour. There is only one place on the planet where you can swim with ... Read more
Location: Akaroa, New Zealand
Duration: 3 hours (approx.)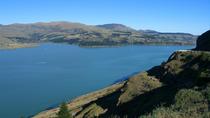 90 Reviews
While your ship is in port in Akaroa Harbour, take a shore excursion to tour the scenic Banks Peninsula and visit the city of Christchurch. You'll see how ... Read more
Location: Christchurch, New Zealand
Duration: 6 hours 30 minutes (approx.)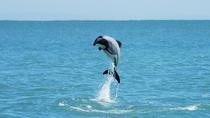 7 Reviews
After your cruise ship docks in Akaroa, take a nature cruise across the harbor to spot dolphins and admire New Zealand's stunning scenery. Look out for New ... Read more
Location: Akaroa, New Zealand
Duration: 2 hours (approx.)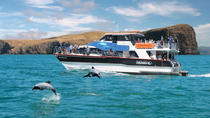 20 Reviews
Experience majestic scenery and stunning wildlife including dolphins, penguins and marine bird life on this Akaroa Harbour Nature Cruise.
Location: Akaroa, New Zealand
Duration: 2 hours (approx.)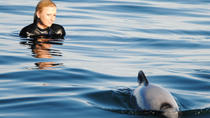 3 Reviews
When your cruise ship docks in Akaroa, take a shore excursion to swim with the world's smallest, rarest and friendliest dolphins -- Hector's dolphins. Akaroa's ... Read more
Location: Akaroa, New Zealand
Duration: 3 hours (approx.)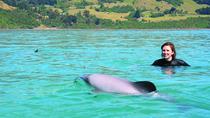 14 Reviews
Explore the coastal town of Akaroa and enjoy a once-in-a-lifetime chance to swim with dolphins on this full day tour from Christchurch. Travel through the ... Read more
Location: Akaroa, New Zealand
Duration: 9 hours (approx.)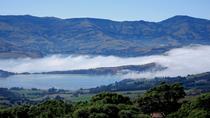 4 Reviews
Discover the historic town of Akaroa and the magnificent natural beauty of the Banks Peninsula on this small group tour from Christchurch. Be amazed by the ... Read more
Location: Akaroa, New Zealand
Duration: 9 hours (approx.)