2 Reviews
Address:

Cashel Street, Christchurch 8011, New Zealand

Hours:

Mon–Fri: 10am–5:30pm; Sat–Sun: 10am–5pm
There was a time when busy Cashel Street was the thumping heart of Christchurch; the devastating destruction of the 2011 earthquake, however, left the once bustling downtown in pieces. Aching for a center of commerce and activity to boost the morale of residents, the iconic Re:Start Mall opened for business only eight months after the quake. With colorful shipping containers in lieu of buildings, the structure got Christchurch outdoors and smiling again.
Today, the city mall (also known as Cashel Street Mall) is a pedestrian thoroughfare of shopping, cafes, and top-grade people watching. Browse the department stores of high-end fashion or kick back with an afternoon tea in the open-air square to enjoy the spirit of downtown Christchurch as it literally emerges from the rubble.
For a fascinating multimedia attraction, tour the Quake City exhibit in the mall, where you'll hear stories of the Christchurch earthquakes and in many ways feel you were there.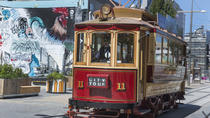 8 Reviews
Welcome aboard the Christchurch Tram! Travel on our newly extended track & enjoy this unique and historic way to view the inner city. Drivers provide a ... Read more
Location: Christchurch, New Zealand
Duration: 1 day (approx.)