With the air laced with the scent of freshly baked gingerbread and spiced Glühwein, and the riverside promenades twinkling with fairy lights, few places evoke the magic of the festive season like Cologne. Home to 5 Christmas markets, which sprawl along the Rhine and nestle in the shadow of the city's famous UNESCO-listed Cathedral, there's plenty to keep visitors busy over the festive season, but to really soak up the atmosphere, opt for a Christmas cruise along the Rhine.
Sailing through the colorful Old Town (Altstadt) and the distinctive marina of the Rheinauhafen, you'll get a view of all the city's main sights, set aglow with seasonal decorations and teeming with Christmas shoppers. Enjoy Sunday Brunch accompanied by Christmas carols and a suitably festive spread or opt for an afternoon cruise, where you'll get to indulge in coffee and hot waffles while drifting along one of the most scenic sections of the Rhine River, dotted with fairytale castles and striking medieval architecture.
The most romantic way to experience the Rhine is with a candlelit evening cruise, the perfect way to end a day's shopping at the Christmas markets. With a traditional German menu, live music and the river dancing with a kaleidoscope of Christmas lights, there are few more atmospheric ways to kick-start the holiday season.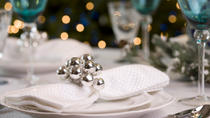 10 Reviews
Capture the Christmas spirit as you cruise along the majestic Rhine River through the grand old city of Cologne and indulge in a decadent brunch buffet. Admire ... Read more
Location: Cologne, Germany
Duration: 2 hours 30 minutes (approx.)