Castle addicts, hold on to your hats – the jackpot is waiting for you just outside Copenhagen! Full of ornate and amazing structures, you'll feel like you're in a fairy tale come to life.  So where do you start? The picturesque region of North Zealand just outside Copenhagen is a treasure trove of sights; a day trip from Copenhagen will get you to the finest of the region. You'll head north through magnificent Danish countryside and coastline towards Elsinore and Kronborg Castle, a magnificent renaissance castle on the UNESCO World Heritage List, made famous for being the setting of Shakespeare's Hamlet.
 
After that, explore the Queen's summer residence of Fredensborg Palace, set in a beautiful park bordering Esrum Lake, and then on to the truly amazing Frederiksborg Castle. Built by King Christian IV in the 1600s, this magnificent Renaissance-style castle is now a national historical museum, holding treasures of painting, tapestry, porcelain, silver and furniture.

If you like your castles with a hearty dose of literature, you may want to cut to the chase and immerse yourself in a specific Hamlet Castle Tour  from Copenhagen instead, exploring the castles made famous by Shakespeare's immortal play. Be enchanted by the tales of Shakespeare relating to the intriguing Elsinore Castle. You'll see the outer walls and the towers of Kronborg Castle, the historic place where Hamlet talked to a ghost. Once you've had your fill of Hamlet, take in the beauty of the nearby town of Helsingor, with buildings dating back to the 1700s, before traveling back to Copenhagen via the Danish Riviera.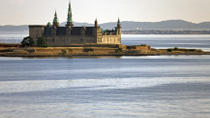 521 Reviews
If you love castles, Denmark has almost as many fairy tale castles as it does fairy tales! Visit the picturesque region of North Zealand just outside ... Read more
Location: Copenhagen, Denmark
Duration: 6 hours 30 minutes (approx.)