Despite its most famous former resident being fictional, the coastal town of Helsingør, or Elsinore, still draws a steady stream of Shakespeare fans, making the pilgrimage to 'Hamlet's Castle'. Prince Hamlet himself may not have existed, but the imposing Kronborg Slot, known in the play as Elsinore Castle, still looms over the seafront. Dating back to the 16th-century, the striking Renaissance-style castle is a UNESCO World Heritage site and among Denmark's top attractions. 

The town of Elsinore is also worth a wander, with its winding cobblestone lanes, half-timbered buildings and Gothic churches painting an evocative picture of the town's 19th-century heyday, when it was the prosperous center of Denmark's shipping industry. Today the port is still busy, with frequent high-speed ferries crossing the Sound (Oresund) to Sweden, a popular day trip for Danes. 
With the town's theatric connections it's no surprise that Elsinore has a thriving arts scene too, and summer visitors can enjoy an array of plays, musicals and concerts performed at the historic Helsingor Theatre or as part of the annual Helsingor Street Theatre Festival, or check out a performance of Hamlet held, of course, in the grounds of Elsinore Castle.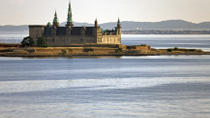 521 Reviews
If you love castles, Denmark has almost as many fairy tale castles as it does fairy tales! Visit the picturesque region of North Zealand just outside ... Read more
Location: Copenhagen, Denmark
Duration: 6 hours 30 minutes (approx.)