At one point in history, Córdoba had some 300 public baths. Dating back to the year 600AD, these Roman- and Arab-inspired hammams, as they are called, have become an important ritual in many Muslim cultures, and a lingering reminder of Muslim presence in Spain.
Indeed these days, hammams are still commonplace in countries like Morocco and Turkey, where locals often visit them once a week and spend hours catching up with friends and getting extra clean via especially intense exfoliating massages. Meanwhile, in Spainish cities like Córdoba, many of those hundreds of ancient hammams no longer exist; it is believed that they were banished during the Spanish Reconquista.
Fortunately some of these arab baths can still be found, as many of Córdoba's ancient baths have been resurrected and renovated. Typically, these hammams consist of a cold room, warm room, hot room, steam room, and a hot stone where the major cleaning (that is, exfoliation) takes place. Most hammams offer the traditional exfoliating massage, with aromatherapy add-ons, and the opportunity to enjoy the various rooms, where you escalate your heat exposure in order to open your pores and cleanse your skin. It's also customary to indulge in a post-treatment tea to top off the relaxing experience.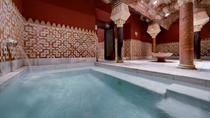 17 Reviews
Enjoy 1.5 hours of ultimate relaxation at Cordoba's alluring Arabian baths, Hammam Al Ándalus! The tranquil haven exudes understated Arabian opulence at ... Read more
Location: Cordoba, Spain
Duration: 90 minutes (approx.)