Singing, guitar playing, hand clapping and of course dance: this is what makes up the soulful art form of flamenco. Believed to have originated in the south of Spain, Córdoba can be the perfect place to immerse yourself in one of the country's proudest and most evocative traditions.
Some of the best and most authentic flamenco in town can be viewed at Tablao Cardenal, where you can watch shows in the their quintessentially Cordoban patio during summer and spring, and in an interior auditorium during winter. Other venues like La Buleria offer smaller-scale, tavern-style performances, or Arte y Sabores de Córdoba, with shows that take place in what was once the site of Arab baths.
If you happen to be in Córdoba in June, be sure to catch La Noche Blanca del Flamenco, or the White Night of Flamenco. During one full night in June, soulful flamenco music and dance take over the city, in venues like the gardens of the Alcázar de los Reyes Cristianos, and in the Orange Tree Courtyard (Patio de los Naranjos) of the Great Mosque.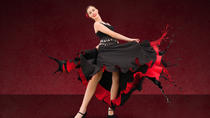 25 Reviews
Visit Cordoba's Tablao el Cardenal for a night of fiery flamenco and fast-paced music! Taking place on the site of the old archbishop's palace near Cordoba ... Read more
Location: Cordoba, Spain
Duration: 2 hours (approx.)