Top Beaches in Corfu
By Viator, April 2018
With more than 130 miles (209 kilometers) of Ionian coastline, Corfu island has more beautiful beaches than any 2-week traveler can ever hope to explore. But, before you settle for any old stretch of sand, read our picks for the best beaches in Corfu.
Issos
This dune-lined stretch of golden sand is situated in Agios Geórgios on the southwest edge of the Korission Lagoon and famously featured in the 1981 James Bond film, For Your Eyes Only. Lifeguards watch over the shallow waters, which draw in swimmers and water sports enthusiasts, while the golden sands are a magnet for sunbathers.
Paleokastritsa
Located about 15 miles (24 kilometers) north of Corfu Town, Paleokastritsa is home to a series of six beaches set around a bay, some of which can only be accessed by boat. A common thread between them all is their crystal-clear waters, which makes them ideal for snorkeling and scuba diving. Boat trips carry beachgoers out to sea caves here.
Porto Timoni
Set near the village of Afionas, this double beach straddles either side of a narrow strip of land and is not only one of the most picturesque in Corfu but also in Greece as a whole. Its difficult-to-access location keeps crowds at bay: You can get here either by taking a boat or by hiking down a rocky, hillside path. The walk from Afionas should take about 30 minutes.
Ágios Geórgios Págon
Curving along the northwest coast of the island, this U-shaped sandy beach is bordered by cliffs that rise from the water. Try windsurfing, scuba diving, snorkeling, or just floating in the tie-dye blue waters. This stretch usually remains uncrowded, even in the height of the season.
Glyfada
One of the closest beaches to Corfu Town, Glyfada is known for its soft golden sand and the tree-covered cliffs that surround the beach. Most popular with younger crowds, the beach has all the basic amenities, as well as water sports facilities, shops, and beach bars.
Canal d'Amour
Located near the resort town of Sidari on the north coast, the Canal d'Amour (Channel of Love) is one of Corfu's most famous beaches. It's small, but perfectly formed, with striking rock formations creating a network of coves and canals. Tradition dictates that if a couple swim through the narrow canal, they will soon be wed.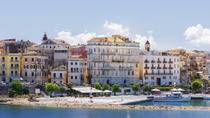 31 Reviews
See the Corfu you want to see on this private half- or full-day tour. Select three or six attractions or activities, and then relax as your professional driver ... Read more
Location: Corfu, Greece
Duration: Varies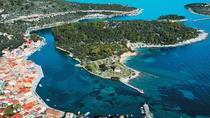 5 Reviews
You have the opportunity to visit the islands of Paxos and Antipaxos, which are situated, close to the southern coast of Corfu,  and also the famous blue Caves ... Read more
Location: Corfu, Greece
Duration: 10 hours (approx.)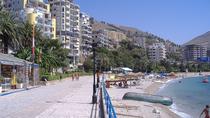 4 Reviews
Enjoy a full-day, guided tour of Albania, from Corfu. Explore some of Alabnia's highlights, such as Ag. Saranda City, Butrint and the ancient city of ... Read more
Location: Corfu, Greece
Duration: 10 hours (approx.)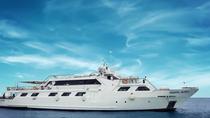 One day cruise to the Greek mainland coast line where we visit Syvota and the Blue Lagoon
Location: Corfu, Greece
Duration: 10 hours (approx.)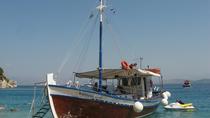 Do you like sea and sun? It's the perfect boat trip for a relaxing cruise along the north east Corfu's  most beautiful coastline. Sail to the northeast ... Read more
Location: Corfu, Greece
Duration: 7 hours (approx.)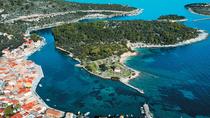 3 Reviews
Cruise to the picturesque town of Parga which lies on the Greek mainland and the island Paxos situated close to the southern coast of Corfu.
Location: Corfu, Greece
Duration: 10 hours (approx.)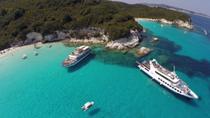 6 Reviews
Once you are in Corfu, one of the best choices is to complete your holiday with a cruise, and this is your opportunity to navigate for a whole day and ... Read more
Location: Gaios, Greece
Duration: 10 hours (approx.)
Join our full-day sailing trip, leaving Corfu Old port daily and live a proper sailing experience, looked after by our experienced and hospitable crew, on ... Read more
Location: Corfu, Greece
Duration: 9 hours (approx.)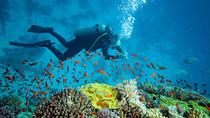 1 Review
What more enjoyable of enjoy the crystal clear waters of Corfu Island on a Scuba Dive trip. Divers will explore the beautiful waters of Kruzeri reef, whilst ... Read more
Location: Corfu, Greece
Duration: Flexible
Boat trip from Corfu to Greek mainland. We will visit Parga where you will have the change to walk in the old town till the Venetian fortress, have a ... Read more
Location: Corfu, Greece
Duration: 10 hours (approx.)