No reviews, be the first!
Address:

Gala-Dalí Square, Figueres E-17120, Spain

Hours:

Opens at 10am, closing times vary. Closed Jan through mid-Mar; closed Mon except June to Sept, when it is open daily

Admission:

Adults: €7
The mustachioed madman himself created the Castell de Pubol, today better known as the Figueres Dalí Teatro-Museo. It is the "largest surreal object in the world," which Salvador Dalí designed right down to every weird, wild detail.
Within this maze of mirages and magic is the largest collection of Dalí's work in the world, displayed according to his own strange tastes. His fantastic paintings, delicate jewelry, and bizarre sculptures come together in one hallucinogenic swirl, punctuated by his finest work - himself, buried deep inside. Even the gardens reach d eep into your subconscious, perhaps finally inspiring those flashbacks you were promised in your youth.
Guided tours usually allot an hour or two to the museum, which may be quite enough. But this is an attraction that could absorb days, or weeks; make your plans accordingly. 
Practical Info
Castell de Pubol, more commonly referred to as the Figueres Dalí Teatro-Museo, is one of the region's most popular cultural destination, and offered by every hotel and tour operator on the Costa Brava. There is a range of lodging avaiable in Figueres, a fine spot for folks looking for the reality of modern Spain, as opposed to the usual tourist-friendly claptrap.
If you prefer the tourist claptrap (and it's hard to argue with those beautiful beaches), you'll probably be arriving via train. There are excellent connections from Barcelona and the coastal resort towns. The museum is a well signed, 15-minute walk from the station, where taxis wait for less athletic travelers.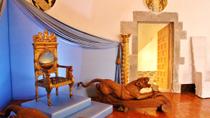 Explore the bizarre and intriguing world of Salvador Dalí on a private day trip from Barcelona. After being picked up at your hotel, get whisked off to ... Read more
Location: Barcelona, Spain
Duration: 11 hours (approx.)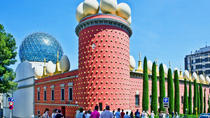 See a different perspective of Dali and the landscapes of Costa Brava in this alternative tour through the life and work of the genius painter. Our guide will ... Read more
Location: Barcelona, Spain
Duration: 10 hours (approx.)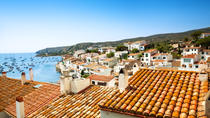 One of the most inclusive Salvador Dalí tours in Spain, this private day trip from Barcelona will introduce you to all things Dali in Figueres, his ... Read more
Location: Barcelona, Spain
Duration: 11 hours 30 minutes (approx.)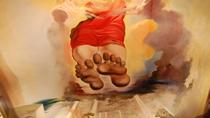 735 Reviews
This is without doubt, one of the most complete Salvador Dalí tours available. Spend the morning at the unique Dalí Museum in Figueres and finish the ... Read more
Location: Barcelona, Spain
Duration: 11 hours 30 minutes (approx.)