Ronda
Settled by the Phoenecians around the 7th century BC, later conquered by the Muslims and finally settling under Spanish rule, Ronda has had a long and varied history marked by war, trade, and geographic wonder. Today, most visit the small town of Ronda in order to enjoy is rustic charms, photograph the dramatic landscape and taste some of the local wineries of the region.

Described by many travelers as a bit "off the beaten path," the somewhat circuitous road leading up to the town is marked by the beautiful Costa del Sol (Coast of the Sun) terrain. Mountainous and Mediterranean climate are good for wine, and some notable local wineries are located in this district and may be visited along the way.

Upon arrival in Ronda, many note the El Tajo gorge that splits the town into old and new districts, and the Punte Nuevo bridge connecting the two. A photographic delight, the gorge and the bridge create a dramatic backdrop for this small town, and a walk across is enjoyed by many who wish to visit the Islamic old town. Also in the Islamic Old Town, visitors can visit the building where three generations of the Romero family established what is modern day bullfighting and see some of the ancient (14th century) baths that are still in operation today.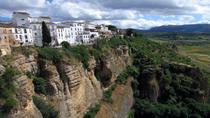 83 Reviews
Explore the mountainous region of Ronda on this relaxing day trip from Malaga. See all the highlights of the beautiful town of Ronda, including the Plaza de ... Read more
Location: Malaga, Spain
Duration: 11 hours (approx.)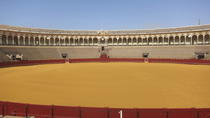 Discover Ronda, the Andalucian city with centuries of history and dramatic sights, on a day trip from Granada! With an expert local guide, walk around the city ... Read more
Location: Granada, Spain
Duration: 10 hours (approx.)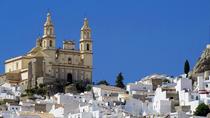 3 Reviews
Embark on a unique guided day tour and explore the countryside and mountains of the province of Cadiz and Malaga. Witness all of what this area is most famous ... Read more
Location: Seville, Spain
Duration: Flexible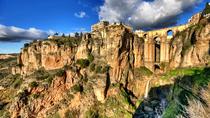 1 Review
Join a small group to visit one of the loveliest and most historical town of Andalucia - Ronda. See the oldest in Spain bullring, walk through famous "white ... Read more
Location: Seville, Spain
Duration: 9 hours (approx.)
62 Reviews
Take a day trip from Seville to explore the ancient city of Ronda, where you'll enjoy tasting local wines and explore Plaza de Toros, a traditional ... Read more
Location: Seville, Spain
Duration: 11 hours (approx.)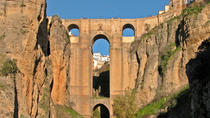 A trip up the mountains and town of Ronda where you can visit the winery La Sangre and enjoy the tapas of the town.
Location: Gibraltar, Gibraltar
Duration: 9 hours (approx.)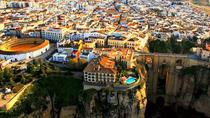 Immerse yourself in Spanish tradition during this 2-hour walking tour of Ronda, the birthplace of modern bullfighting. See some of the city's most famous ... Read more
Location: Ronda, Spain
Duration: 2 hours (approx.)
Spend a day touring Ronda, one of the most beautiful and historic towns in Andalusia. Ronda is a mountain top city nestled on the dramatic El Tajo Gorge, which ... Read more
Location: Marbella, Spain
Duration: 6 hours (approx.)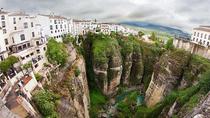 Explore the historical city of Ronda on a day trip from Malaga and get to see the countryside and mountains of the province. Discover the main landmarks and be ... Read more
Location: Málaga, Spain
Duration: 1 day (approx.)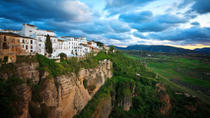 1 Review
Take a private day trip to the town of Ronda. Situated in a mountainous region west of Malaga, Ronda has many highlights to see, including the Plaza de Toros ... Read more
Location: Malaga, Spain
Duration: 8 hours (approx.)