30 Reviews
Address:

Avenida Rafael E. Melgar, Mexico

Hours:

8 a.m. - 4 p.m.

Admission:

Adults: $19; Children: $10
Chankanaab Park (Parque Chankanaab)
Chankanaab Park (Parque Chankanaab) is a lovely and laid-back eco-archaeological park just south of Cozumel. There are several attractions on dry land, including faux Mayan ruins and pleasant gardens, plus dolphin and sea lion shows.
The main attraction, however, is the wildlife-rich sea park, which can be explored via rented snorkel equipment. Diving is also offered regularly for those with PADI certification, and the Sea Trek Adventure is a way to dive with a breathing helmet and no certification necessary. Travelers also have the option to swim in a tank with dolphins, manatees and sea lions for an extra fee.
Practical Info
Service is prompt at Chankanaab Park, and English is almost universal throughout the park. Rental vehicles and taxis can be taken the the site, and there are almost always taxi cabs lined up right outside to take day trippers back to their hotels. Experiences such as swimming with dolphins, snuba, snorkeling and scuba diving are not included om park admission. One of Cozumel's premier attractions, the park is often included in shore excursion bookings, meaning it can get crowded when a ship pulls into town.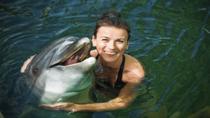 23 Reviews
Get up close and underwater with dolphins at Dolphin Discovery on Cozumel! Choose from two dolphin programs plus a sea lion show and snorkeling in the ... Read more
Location: Cozumel, Mexico
Duration: 45 minutes (approx.)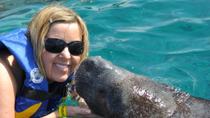 22 Reviews
Sailors like Christopher Columbus once mistook manatees for mermaids. During this 45-minute program in Chankanaab Beach Adventure Park, delight in hands-on fun ... Read more
Location: Cozumel, Mexico
Duration: 45 minutes (approx.)
Enjoy one of the greatest Cozumel combo tours with this Super Saver that combines two unforgettable experiences. This is a one-of-a-kind adventure as you swim ... Read more
Location: Cozumel, Mexico
Duration: 60 minutes (approx.)
1 Review
Dive underwater and interact with dolphins at Chankanaab Beach Adventure Park in Cozumel. Learn the ropes of using scuba gear (no experience or certs ... Read more
Location: Cozumel, Mexico
Duration: 3 hours (approx.)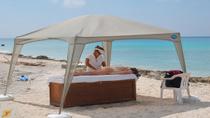 8 Reviews
Enjoy a relaxing day in Cozumel on a visit to Playa Uvas Beach Club. Have the best time snorkeling in the crystal clear waters, soaking up the sun or sipping ... Read more
Location: Cozumel, Mexico
Duration: 4 hours (approx.)
Visit Discover Mexico Park and Chankanaab Park with this combo ticket that gives you access to two of the most popular places in Cozumel. It is the perfect ... Read more
Location: Cozumel, Mexico
Duration: Flexible
Take a journey all the way around the island in a Jeep Wrangler (four guests per car) and discover the most important parks and sites of Mexico's largest ... Read more
Location: Playa del Carmen, Mexico
Duration: 8 hours (approx.)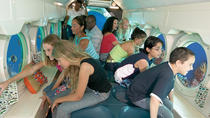 11 Reviews
Dive to depths of 100 feet (30 meters) in a submarine, piloted by a professional and licensed crew. Discover why Cozumel is one of the top dive destinations ... Read more
Location: Cozumel, Mexico
Duration: 2 hours (approx.)
Live the experience of a lifetime when you visit the Island of Cozumel and drive your own 4x4 all terrain Jeep. You'll also combine this with a Maya experience ... Read more
Location: Cancun, Mexico
Duration: 12 hours (approx.)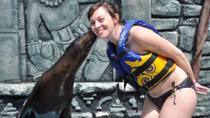 2 Reviews
A sea lion tickles you with a whiskered kiss, before breaking out into a song and dance. Experience the playful antics of these mammals with a 45-minute ... Read more
Location: Cozumel, Mexico
Duration: 45 minutes (approx.)