Santa Rosa Wall Tours
One of Cozumel's signature dives, the Santa Rosa Wall, is the dive site that many come to Cozumel to visit. Diving the beautiful Santa Rosa Wall, with a depth of 50 to 120 feet (15.24 meters to 36.6 meters), is a bit like diving into a great, colorful abyss. This amazing dive spot features 30-to-40-foot-tall (9-to-12-meter-tall) red, green and orange coral outcroppings; huge rock over-hangs in which to explore; narrow tunnels full of life; and hundreds of species of tropical fish to discover. On this dive, whether you want to go deep is up to you, but those that choose to will enjoy the sensation of flying along an underwater skyscraper filled with life. This sensation alone is why many choose to dive Santa Rosa. If you'd like to beat the crowds, consider diving this spot in the afternoon, when most other divers have moved on.
Practical Info
The Santa Rosa Wall is located off the coast of Cozumel and is rated beginner to expert. Ask a local tour operator for directions, and be sure to pair up with a buddy should you attempt to dive without a group.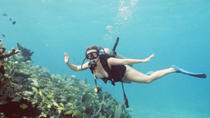 1 Review
Even if you're not staying in Cozumel, you can still experience the famous dive sites in the region. Departing from Cancun, you can enjoy two dives at some of ... Read more
Location: Cancun, Mexico
Duration: 11 hours 30 minutes (approx.)