Cozumel RECOMMENDATIONS See all
Day Trips from Cozumel
By Viator, April 2015
No reviews, be the first!
On any trip to Cancun you're liable to find the locals and tourists alike talking about their recent trip to Cozumel. A pristine island escape just miles from the bustle of Cancun, Cozumel is everything your fairytale dreams of a Caribbean vacation will entail – thatched huts on pylons atop glistening Caribbean water, spectacular sunsets that last for hours, beautiful resorts, white sand, and a teaming underwater world. It's no wonder why so many people make a vacation out of Cozumel, but if you're looking to explore more of the Mayan Riviera than what Cozumel affords you – you're looking at taking a
day trip from Cozumel
to one of the many great attractions outside of this sleepy island.
Tulum and Xel-Ha
– These two ancient Mayan ruins are the big names of archeological wonder in the region. Tulum is also known as the Walled City for its fortifications and this fascinating foray into ancient civilization tells the story of bloody battles and the caste system of the days of the long-gone Mayans. Explore this magnificient treasure while the sparkling blue waters of the Caribbean lay at your feet. Then head to Xel-Ha where you'll explore the underwater world at arms length. Lay in a beach chair, or grab a bite to eat – it's easy living on this day trip from Cozumel.
Xcaret
– In the heart of the Mayan Riviera lies Xcaret – a sacred paradise and ecological themepark to rival any wonder of the natural world. The highlight of this park is its natural beauty which human ingenuity has learned how to cultivate. Ride the underground rivers, snorkel some of the best reefs in the Caribbean, explore ancient Mayan ruins, walk through the aviary of tropical brids, gaze at the aquarium, or simply relax by the lagoon. Xcaret is the best of the Mayan Riviera condensed into one fantastic experience. One day would hardly be enough – nonetheless Xcaret makes a great day trip from Cozumel or neighboring Cancun.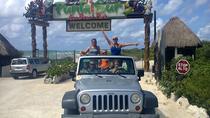 119 Reviews
This private, customizable tour allows you to drive your own Jeep, following a guide so you know where to go. Discover what the island of Cozumel has to offer ... Read more
Location: Cozumel, Mexico
Duration: Flexible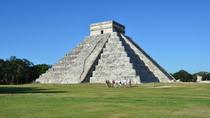 12 Reviews
Visit Chichen Itza — one of the most important Mayan sites in Mexico — on this full-day trip from Cozumel. With a knowledgeable guide, travel by ... Read more
Location: Cozumel, Mexico
Duration: 13 hours (approx.)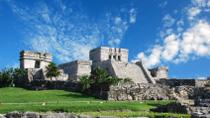 2 Reviews
Visit the mysterious ruins of Tulum and enjoy the view as you explore this abandoned walled city that towers above the deep turquoise of the Caribbean. Then ... Read more
Location: Cozumel, Mexico
Duration: 11 hours (approx.)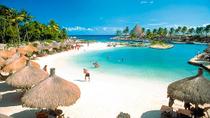 1 Review
Come and explore this sacred paradise in the heart of the Riviera Maya. See how much you can pack into one day when you visit the botanical garden, aviary, ... Read more
Location: Cozumel, Mexico
Duration: 10 hours (approx.)